My name is Chef Carolyn and I am the founder and owner of the Kitchen Gadgets Maven blog, a major foodie with passion and knowledge for novel and inventive solutions for the kitchen.
It seems like there is a new device or solution for every situation we engage in modern living. When it comes to the kitchen this is a big truth. A shopper may get overwhelmed with new cooking gadgets when going through other home retailers.
Trusting online reviews is not always the right thing as bloggers receive payment from companies for good reviews. That's why I created the Kitchen Gadgets Maven as a trusted online source for everything in kitchen gadgetry.
If you're looking for reviews of the latest and best issues in kitchen technology, this is your safe culinary oasis. 
Eager to explore new things in the cooking game, I became an experienced cook. I write my blog entries to share all of my knowledge with my readers. It is clear that they can find almost everything necessary on cooking gadgets on a quick tour through this culinary corner.
From food prep items to cooking tools and cleaning instruments, I go through many subjects in my blog's articles. For everything that is kitchen related, consider me a universal stop. The fact it doesn't cover only product reviews, sets the Kitchen Gadgets Maven apart from others. When it comes to using certain products and tools, the blog post also offers some good practices, tips, and tricks.
After a single visit to this site, homeowners and cooks will never get confused again.
I will offer a variety of trendy products and you won't have to worry about the most modern equipment on the market because popular recipes will always be on the blog too. If you are an aspiring chef, you will know how to achieve the recipes you have been seeing on television or in the magazines, you are at the exact right place cause we'll bring them all to you.
Who is KGM for?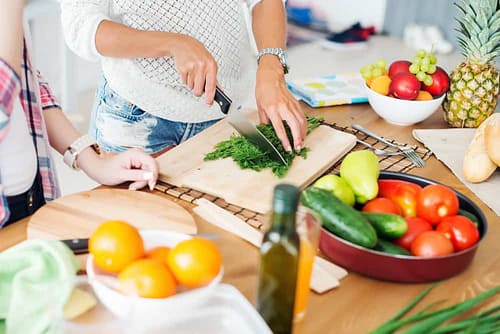 This blog will provide you with insight into all my experiences as a Chef.  If you are a professional, you may find my advice for kitchen appliances very useful. Some of the multiple-reviews on this page may also solve your dilemmas about which product to buy. 
Having a long career in cooking, my preferences will help you save money from the unnecessary and spend them on essential stuff. Not everybody will agree that a cooking genius lies in each one of us. Yet, almost everybody will agree that cooking may bring extravagant joy from time to time. 
How to make these experiences unforgettable?
Taking advice from a professional would be the right thing. It doesn't matter how often we undertake the cooking adventure, our results will be the most exquisite if we learn from the best. Some of my solutions may provide a novelty for you, given the long career I have been active in.
Although it is not always the case, stay at home parents often engage in housekeeping and, of course, cooking. It goes further – preparation of drinks and organization of the kitchen is a part of their activities too. If you are one of them, you will get all the help and guidance you can get right here.
This may be an excellent way to gain more information about certain appliances and solutions for your household. Everybody wants to make their household or workplace as effective as possible. The kitchen is among the essential units for the good functioning of every family environment. When it comes to kitchen components, households should have a solid organization. 
Not only preparing, but also preserving it and dumping the excess is vital for smooth house management. I'm here to provide you with inventive solutions for the arrangement of your little heaven.
For more details, check the reviews on my page.
Getting Started: Shortest Guide On The Best Kitchen Gadgets and Kitchen Tech You Will Need This Year
If you are one of those people who struggle to maintain the house clean, you must be looking for an efficient solution. It is so difficult to look at the people who are successful in this without envying them. Take a deep breath and relax because I am about to reveal to you some useful tips and solutions.
It is not always your engagement to such problems that counts.
Yet, sometimes it is the tools that you are using as well as the manner in which you work with them which is vital. My aim is to help you make your household a little paradise with the help of my own personal experience.
My reviews will help you decide what's best for the necessities in your household.
If you are thinking of buying a product but don't know much about it – I'd gladly help you get the clearest image.
If someone asked you how to brew a coffee some ten or twenty years ago, your answer would be very simple. Back in the days, there was nothing more you could prepare than Espresso or Americano. Yet, if you gave that answer today, you would appear very thin compared with what modern machines can do.
There are so many new coffee brewing methods available today that you may spend some time deciding which one is the best for you.
Cold-brew? Press-brew? Pour-over? The list can be without an end. There will be some people swearing that you don't know what you are missing until you have tried them all. Some of them may be an improvement in your way, and some may be a complete innovation.
I will walk you through every method and give you information about every brewing machine and I'm positively sure it will multiply your unforgettable coffee experiences!
In contrast to the past when there were few tools for preparing various foods, modern technology offers a large variety. What once used to be hand-made, now has its particular device which keeps getting better with time.
You are hearing about a device for the first time in your life and you need a tutorial to help you out – I'm here to show you. Everything you want to know is a part of my long reviews that show you the strong and weak sides of the products.
Piling up information for an excellent user experience, I am making sure the visitors to this page find everything they need. 
My blog is not here only to help you with new ideas, but to solve some of your dilemmas as well. Being an expert in the field, I will share with you everything I know to ensure you end up choosing the right thing.
There is a very important part that many forget about when it comes to the whole experience of preparing food at home. It may come both before and after the preparation of the food and it concerns the preservation of the ingredients or the food itself.
Most of us have to store ingredients for a long time before we cook our meals. We want to make sure they stay in the best shape before we use them for our advantage. Moreover, people have less time today so they rarely engage in cooking food every day.
Meal-prep days are today's people's solution when they prepare food for two days to even a week. 
If you want to know how professionals do it and which tools they use for it, check out my website content. Learn more about solutions, performances, and preferences of professionals.
I'll eagerly share all my experiences with you.
Recommended Guides To Start With
Best Coffee Maker
One thing I want to say 99.5% of households need is a great coffee maker. Makes life so much easier in those early mornings or even when guests are over for brunch.
You can make coffee in various different ways with various different tools and machines but the simplest way is to buy a coffee maker that puts it all together for you.
Now I can't say I have tried all these coffee makers myself but I did scour through the people's channel (Reddit) to find the best coffee maker reviews and put them together to see what came out on top.
I suggest you check it out as you won't regret it, especially if you are thinking about getting one!
Air Fryers
Up your culinary game AND cook healthy and delicious without traditional oils. 
An absolute winner you must have in your kitchen is the air fryer in which you'll be able to roast, grill or fry all while keeping the taste with just a touch of oil and heated air. 
With less cleaning and preparation, air fryers provide the crisp and splendid texture of grease-soaked food. What more could you ask for?
Ovens for Baking Cakes at Home
In the chase for the perfect dough, I learned that baking and cooking are two entirely different things. 
Now, baking is an exact science, requiring perfect temperature control and timing. As such, convection ovens tend to be different from run-of-the-mill ovens. 
The best oven for baking cakes is one that's intuitive enough to do the job you need without any hassle or fuss. Besides, you'd have more time for your kids right?
Steamer Baskets For Instant Pot
Meet the only wizard you'll ever need in your kitchen – The instant pot!
The things you can do with it are almost infinite, such as cooking under pressure, sautee, slow cook, even steam, warm, and making yogurt! It seems that the only thing this kitchen show pony doesn't do is sanitize socks. 
Our grandmas knew what they were doing when they steamed vegetables with metal contraptions and the instant pot is such. Now it's time we do the same, with a slight twist when it comes to steaming, with a steamer basket for instant pot.
Waffle Maker
What's the quick and easy go-to breakfast in America… Waffles!
But the only way to allow for this and a must-have in the kitchen (especially if you have kids) is a waffle maker.
This small but effective gadget can make your life so much easier and please the family with the different styles of waffle… thin, Belgian, Liege which will come in handy for a snack any time of day. 
Regardless of what type you want, you will definitely need a waffle maker, and we've created a guide that reviews the best waffle makers you can possibly have.
Chef Knives 
The most important tool that any chef needs to have? You guessed it – knives! 
But not all knives are good nor useful.
Every chef including myself has struggled throughout the years to find and use the ones we feel are most useful for us, and in a way complete us as chefs and our cooking. 
This is why I set out and tried to find the best chef knives out there not only taking into consideration their quality but their price too (below 100$). 
Milk Frother
Now that you have an espresso machine, you can make a mean cappuccino and friends will be blown away from your lattes!  
Upgrade to a barista-level and give some latte art a go.
Companies have started making dedicated devices to froth the milk for you. These come in at a better price and can upgrade all your coffee experiences.
Coffee Grinder
Have you ever thought of making espresso with a rustic touch over your stove? 
High-tech espresso machines and drip coffee makers may be all the rage, yet this method still hasn't gone out of style.  A good old Moka pot lets you brew a strong cup of coffee straight.
If you're going to brew your perfect cup of coffee with your Moka pot, you'll need to pick the right grind and type of coffee.
Food Processors
Vegan or not, preparing for a recipe will often need vast amounts of chopping, kneading, and mixing. 
When these steps are manual, they do take a lot of time. You can spend that extra time with your family if you decide to include a food processor in your prep. The ingredients will be fresh and whole, upgrading your recipes and saving you tons of time! 
Health benefits? Infinite. 
Food processors are here to save time by breaking down food items into a consistent and uniform blend. Talk about a true helper in the kitchen!
Beer Making Kits
Over the past couple of decades, home brewing kits provided enthusiasts with the ability to make beverages. Among them are beers, wines, and spirit drinks. 
But, a lot of enthusiasts quit because beer making tends to be tricky at times. I know, because I saw my husband struggle with and give up! 
Thank god I found some friends that actually had experience with beer making and kits. 
These kits include a variety of components that will allow you to ferment, mix and even bottle beer and you'll be able to brew-up your game regardless of being a beginner or a pro.
Recent Posts
Vitamix E310 vs E320
Have you ever found yourself in a dilemma about two products that are similar and different at the same time? 
You read or hear many user experiences and reviews but you still can't decide which is better. We've all been there.
That's why I tried and compared Vitamix E310 vs E320 to give you a clearer vision of both of them and help you decide which of these models from the Explorian series suits you best.
Electric Composter 
I strongly recommend using products that are eco friendly and help the environment in any way possible. That's why I use an electric composter when dealing with my food leftovers (which are not too many, my kids eat a lot!)
Why compost? Your garden will be grateful and you will manage to also save on buying compost, a win-win deal!
Food Processor For Nut Butter
Omg, PBJ sandwich just got a totally different meaning thanks to this simple food processor for making nut butter I started using. 
The homemade nut butter that you'll be able to make with this processor will forever change the way you feel about buying one from the market. 
Your kiddos will spread a homemade goodie packed with only the best nutrients, no more hiding the jar.
PBJ for the win!
Smoker Box for Gas Grill
It's one of those things that makes my husband love me more! Just kidding, he loves me without that, but the smoker box definitely adds more flavor to it. 
Joking aside, your food will never be the same after you try the smoker box for your gas grill.
Forget what you know. Smoking is good, but for your gas grill!
Coffee Grinder for Cold Brew 
Wait, cold brew or iced coffee? A lot of people confuse the difference between these two but they are actually very different. 
Cold-brew is less thick and also has a much stronger coffee taste compared to iced coffee which goes with milk, sugar, and sweeteners.
The best part? Cold-brew can be made with a simple coffee grinder. Yes, that's true!
FAQ
Are you offering only the latest solutions available on the market?
KGM will give you information about any product which seems to be effective in getting the job done. It is not the latest products that are always the best – sometimes a certain amount of time has to pass so we can know a product well. This is where KGM kicks in with expertise in the field giving you everything but unnecessary knowledge. 
Can I purchase certain products from your page?
You won't be able to make a buy straight from the page but every product has its own Amazon link. The KGM is a participant in the Amazon services so you will receive vital information about the ordering of the product on their page. 
Is it possible to request a review of a certain product, currently not available on your page?
You can always text me and the team on the following link and tell me your suggestions. We are eager to hear new ideas and put the proposals of our readers into practice. We'll reply to you at your e-mail address as communication with users is vital to us.