---
We like to share product recommendations with you and hope you like them! Just to make you aware Kitchen Gadgets Maven may collect a small share of sales or other compensation from the links on this page.
---
Kitchen Gadgets Maven is reader-supported and may earn a commission when you book or purchase using our links. Learn more about our affiliate disclaimer here.
Try switching to an air fryer as a new appliance in your kitchen, advertised as a healthy, guilt-free way to enjoy your favorite fried foods. 
Air fryers under $100 have experienced a recent surge in popularity. 
Air Fryer is one of the most popular modern kitchen gadgets in 2022, we will help you find the best air fryers under $100 through our article.
Reviews Of Best Air Fryers Under $100
COSORI Air Fryer Max XL
Cosori Air Fryer XL is a 1700 watt electric air fryer that reaches a temperature up to 400F within the range. 
It has a big capacity of 5.8 Quart Non-stackable basket, which is enough to fit a family fried food at once and to fit a whole chicken inside the basket. 
The parts are safe to clean in the dishwasher.
Cosori air fryer is an award-winning air fryer for its design. 
The product design comes from California and receives the Red Dot Award for best design, but still, some reviews suggest that it requires a bigger room to fit in a regular kitchen.
It comes with a digital LED touch screen where you can set up your cooking time and temperature. 
This makes it easy to set what and how you want to cook and you can use your smartphone to control it. 
Also, it has a shake reminder which shows when the food you cook is ready to get out of the fryer, preventing it from being overcooked or left inside to stale. 
With this air fryer, you will get a 100 recipe book included that can be very helpful and simplify your meal plan.
Features
Power 1700 Watt 

Capacity 5.8 Quart

Controls LED Touchscreen

Temperature Range 140F-400F

Settings 11 Presets

Recipe Book Included

Warranty Period 2 Years
Pros
1700 watt engine creates temperature up to 400F

Digital LED touchscreen

Cookbook included with a 100 recipe book

Dishwasher safe and non-stackable cooking basket

The warranty period of 2 years 

90 days refund option

Easy to use 

Long-lasting product
Cons
Takes more room to store than other fryers

Can be noisier than other fryers
We highly recommend the Cosori air fryer, because this air fryer works faster than most fryers and leaves no peeling on the air fryer basket and the results you get are delicious, soft, and tasty crispy meals.
Reviews say that this fryer requires a bit more counter space in your kitchen and can be a bit noisier than others but it is a great pick, if you have a large family or want to cook many dishes at once, it's great to have.

GoWISE 5.8 1700 Watt 
This air fryer from GoWISE USA is featured with "Rapid Air Technology", which gives you healthy cooked food with much less fat and this machine is very easy to operate and maintain.
GoWISE 5.8 is a 1700 watts air fryer with a range of high temperatures of 180 to 400 °F. 
What makes it provide total control over the food during cooking. 
The product weighs about 11.6 pounds and is well designed to fit in the kitchen.
You have a blue modern LED touch display with a control panel with all the settings and presets. 
With eight different presets, you can get the ideal temperature and cooking times with the touch of a button, there is a timer function with a range from 1 to 30 minutes that can be set to specify the duration of cooking.
The capacity of the air fryer is 5.8 quarts, which is good enough for four-person families. For larger families, this is not the perfect choice. 
Yet, this one also comes in various capacities, 5.0 and 7.0 quarts. 
As also, it's one of the very few fryers that come in many colors, you can choose from black, white, plum, and red.
Features
Power 1700 Watt

Capacity 5.8 Quart

Controls LED Touchscreen

Temperature Range 180F-400F

Settings 8 Presets

Recipe Book Included

Warranty Period 1 Year
Pros
Multiple colors in option 

8 presets to cut hassle

Rapid Air Technology 

Blue Led modern vibrant display

Advanced design 

Easy to use 

Alarm function
Cons
Baskets handles, and pans are warrantied for 30 days only
The GoWISE 5.8 Air Fryer is very appreciative of its design, and it comes in many colors, so it can fit perfectly in your kitchen. 
Not only does it offer a huge capacity, but it also has impressive power and convenient settings for preparing a wide range of meals leaving everybody in the family satisfied. 

Ninja Air Fryer
This Air Fryer of Ninja is 4 quart-ceramic of a non-stackable basket with a power count of 1550 watts, the air fryer holds enough power to prepare your meals ready. 
Yet, also it ensures the even circulation of hot air around your food for quick, crispy, and golden finishes every time.
It comes with a small recipe book of 20 recipes. 
Has a one-touch control panel with four programmable cooking functions, with manual cooking times and a temperature option.
This air fryer has a temperature range of 105F to 400F. 
The heat spreads out wide for the real golden-brown color with more than 75% reduced-fat than the traditional fry. 
Not only that can air fry. Can also roast, reheat and dehydrate edibles besides air frying.
Which makes it a good deal for the price in question. 
Its parts are dishwashable safe, so you can put them in the washing machine saving time to clean them.
Features
Power 1550 Watts

Capacity 4.0 Quart

Controls Smart Control Panel

Temperature Range 105F-400F

Settings 8 Presets

Recipe Book Included

Warranty Period 1 Year
Pros
Wide temperature range of 105-400°F

Multi Optional fryer

More than 75% less fat than regular fry

Dishwasher safe 

Available in different sizes

Budget-Friendly
Cons
Recipe book options

Not suitable for larger families
Ninja Air Fryer 4.0 is a great all-rounder fryer that gives you a wide range of temperatures and easy operability. 
This device is quite amazing, it can roast, reheat, and dehydrate besides air frying and the result you get is food that tastes almost exactly like when they're fired but without that much oil.

Dash Compact Air Fryer Oven Cooker
Dash Compact air fryer uses air crisp technology (instead of oil) to help reduce added fat up to 80% and still gives a great flavor to your fried food, so you can enjoy your fried meals the same way but with less guilt.
The Dash Compact Air Fryer is about half the size and weight of a traditional air fryer. Its measures are 10.2 x 8.1 x 11.4 inches and weigh about 5.7 pounds. 
The appliance has a 1.6-quart fry basket which is quite tiny compared to the 4-quart baskets you'd find in most air fryers. 
This miniature appliance best feeds two people as its capacity is around a bag of french fries or six chicken wings.
This Dash Compact air fryer besides its compactness is being adored for its safety. 
It has an automatic auto shut-off function that prevents the food from overcooking, even it has special cool-touch housing and a super-durable handle.
Features
Power 1000 Watts

Capacity 1.6 Quart

Controls Knob Switch

Temperature Range 170F-400F

Settings No Presets

Recipe Book Included

Warranty Period 1 Year
Pros
Featured with AirCrisp technology

Different color options

Suitable and compact needs small space

Auto shut off function

Modern design

Easy and safe to use
Cons
Very small basket capacity
The true standout quality of the Dash Compact Air Fryer is its small and compact size, so if you're looking for something that's the perfect size for a small kitchen, this air fryer is it. 
Probably the best air fryer for the family of two, but if you have a bigger family and if you have a little more space on the counter, you're better off going with something else. 

Innsky Air Fryer XL
Air Fryer Innsky XL has a 5.8-quart capacity and 1700 watts electric stainless steel energy. 
It reduces the fat without the fat up to 85% when using it. 
With a temperature range of 180F to 400F Innsky air fryers allow you to grill, bake, fry, and roast cook at your will.
Has a flat LED touch screen which is one of the simplest cookers that makes it very easy to use and a delayed start function with a preheat option. 
This Innsky oilless cooker has a large 5.8-quart capacity, this is on the larger side when it comes to air fryers, so you must consider how much space you have in your kitchen space or countertop space before you pick it.
Besides its larger size, it still has a somewhat compact look to it with its sleek-looking design. 
An advantage to its large size is the fact that you can fit much more inside, meaning you can do more cooking with larger amounts of food in one shot. 
Features
Power 1700 Watts

Capacity 5.8 Quart

Controls Touchscreen LED

Temperature Range 180F-400F

Settings 7 Presets

Recipe Book Included

Warranty Period 2 Years
Pros
1700 watt engine

7 Cooking Presets

LED touch screen 

Recipe Book With 32 Recipes

Two Year Warranty

Lifetime Support
Cons
Loud Air Fryer 

Requires more room
Innsky Air Fryer is another great choice, it ranks top in functionality among the best air fryers under $100 available in the market with its tough construction, good capacity and performance.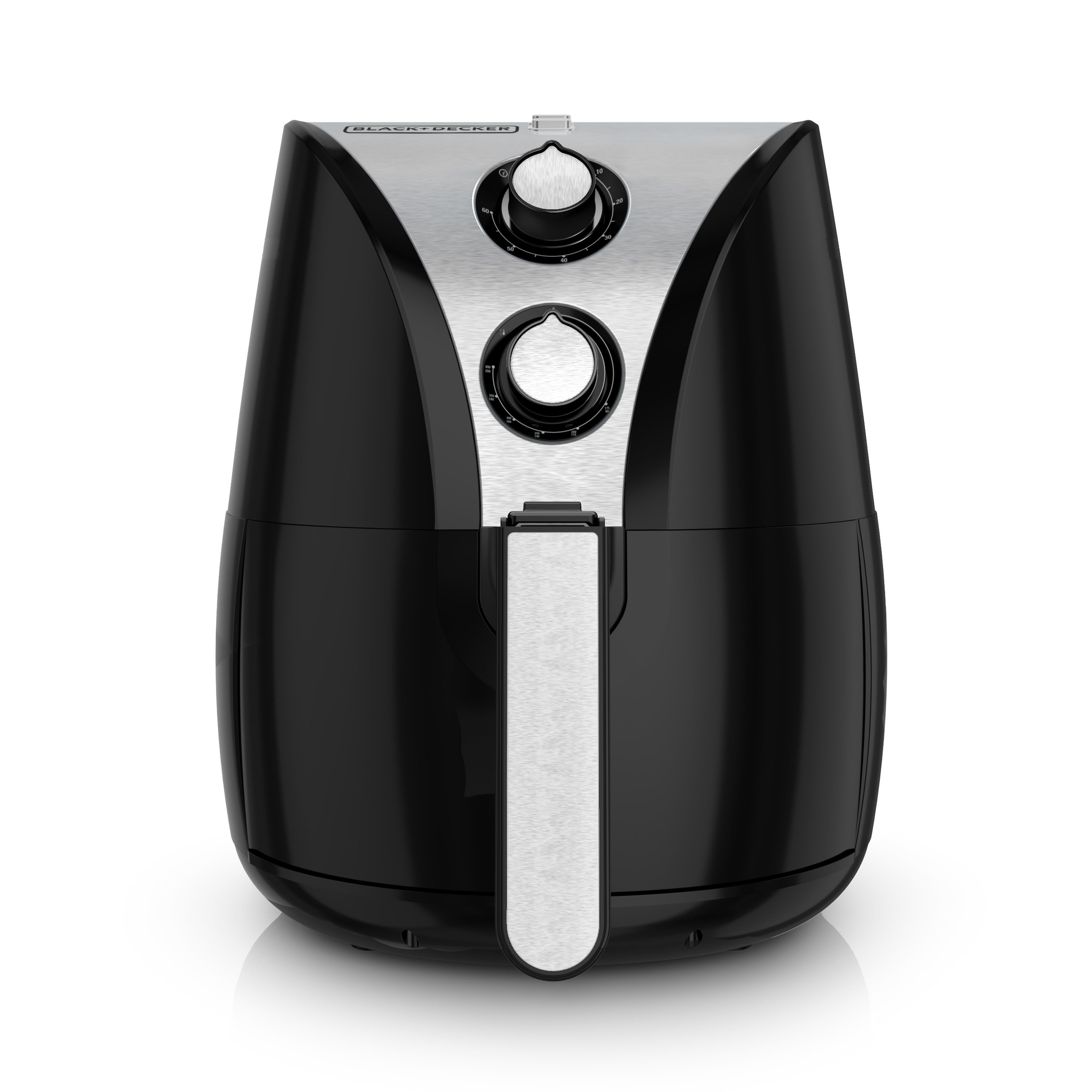 BLACK+DECKER Air Fryer has a compact modern design, stylish looking, reasonable price. 
The company name BLACK+DECKER is a familiar name for people who love smart kitchen items. 
On the market, they can offer different and stylish kitchen gadgets that will make your everyday life easier.
The BLACK+DECKER air fryer has dual convection fans. 
Circulate it around the basket and your foods for chirpy oilless fry. It has 2 indicator lights, one light shows when the power is on and another one works when it reaches preheat.
The temperature range is from 175F up to 400F. Its capacity is 2L, which is enough to make food for 3 people and the dimensions are 12.6 x 12.6 x 14.5.
The Black and Decker Air Fryer parts are non-stackable and dishwasher safe. 
Because of the usage of this material, you do not have to fear that the device will get burnt. Even when cooking at higher temperatures.
Features
Power 1200 Watts

Capacity 2.0 Quart

Controls Knob Switch

Temperature Range 175F-400F

No Recipe Book

Warranty Period 2 Year
Pros
Stylish looking design

Dual indicator lights

Dishwasher safe

2 year warranty

Long lasting
Cons
Not suitable for larger families
The Black & Decker Purifry gives food a deep-fried taste with little to no oil. 
It's affordable and simple to use. It's compact compared to other air fryers. 
Yet it doesn't fit enough if you're making food for a larger group. 

Secura Air Fryer
The Secura 4.2 quart Air Fryer has 1500 watts electric power. It uses hot air in combination with high-speed air circulation Rapid Air Technology. 
Resulting in a top grill to prepare a variety of tasty dishes in a healthier, faster, and easier way.
The temperature range can be set between 180F to 390F. 
And the timer can be set up to 60 minutes as per specific requirements. 
The timer features an auto turnoff facility that turns off the machine when the timer is up,  
What makes this air fryer a good deal are the accessories included. 
There are skewers, a toaster rack, and a mini-book with a little guide and introduction to some of the selected recipes that the user can follow. 
Measuring 15 x 14 x 14 inches, this air fryer is one of the best air fryers under $100. 
Moreover, it comes with a 2-year Limited Manufacturer's Warranty.
Features
Power 1500 Watts

Capacity 4.2 Quart

Controls Knob Switch

Temperature Range 180F-390F

Recipe Book Included

Warranty Period 2 Years
Pros
1500 watt engine

4.2 quart capacity

Rapid Air Technology

Automatic shut off feature

2-year manufacturer's warranty
Cons
The Secura Hot Air Fryer has all the important safety features and offers easy operating and cleaning. 
It is operating without making a lot of noise. 
Secura Air fryer remains one of the people's favorite and one of the most popular air fryers available in and around the U.S. 

Cuisinart AFR-25 Airfryer
The Cuisinart AFR-25 air fryer is a remarkable product when looking for the best air fryers under $100. 
There are a lot of satisfied customers who are using this product. It is durable and affordable and also ready to give you healthy and crunchy meals. 
It looks a bit old fashioned but it is an ideal choice for a large family. It can cook a chicken or even a whole turkey.
This product has a viewing window to track progress as food cooks. 
It has a compact design, and also offers a high capacity. With its 1800 watt engine, the heating coil is more powerful than other air fryers. 
And within the temperature range creates very high heat up to 450F.
It's super easy to use because it has a manual switch to set the cooking time and temperature. And it has a 60 minutes cooking timer with an auto shut-off function.   
Features
Power 1800 Watts

Capacity 2.5lbs

Controls  Knob Switch

Temperature Range 180F-450F

Settings No Presets

No Recipe Book Included

Warranty Period 3 Years
Pros
Large cooking capacity

Minimal noise

Very powerful

Long lasting

Comes with basket and baking tray

Easy to use
Cons
Looks a bit old fashioned
Cuisinart did a decent job air frying as it cooks the food fast because it operates with a lot of power. 
The Cuisinart Air Fryer was the fastest, finishing in at 15 minutes from start to finish. 
Although the results can be burning food at the bottom of the fryer.

Avalon Bay Air Fryer
Avalon Bay Air Fryer works by using Rapid Air Circulation Technology. 
This reduces the bad effects of deep traditional frying allowing you to enjoy your favorite fried foods without the addition of any oil.
The Avalon Bay has 3.7Quart capacity and its temperatures range from 180F to 400F Degrees, powered with 1400 watts. 
Contains non-BPA plastic and a detachable basket for easy food transfer.
It also features a 30-minute standby timer with auto shut-off functionality. The fryer displays knob-style controls. 
Heating and power indicator lights are also present. 
The Air fryer stands on non-slip feet to make sure accidental budges do not pose a threat. 
Comes with a 1-year warranty and instruction book.
Features
Power 1400 Watts

Capacity 3.7 Quart

Controls  Knob Switch

Temperature Range 180F-400F

Settings No Presets

Recipe Book Included

Warranty Period 1 Year
Pros
1400 watt engine

Rapid Air Circulation Technology

Non-BPA plastic body

1 year warranty

Comes with an instruction book
Cons
Avalon Air Fryers have a lot of satisfied customers with their purchase. 
Many people are very excited about their ability to cook fried foods with less oil than traditional air fryers. 
It has a beautiful design, high stability, and reasonable price. 
It has a special Non-BPA handle that features a detachable basket for easy food transfer. 
The capacity is small for a bigger family. 

What is an Air Fryer?
An Air Fryer is a modern electronic kitchen gadget that is cooking various types of food by using only a circulation of hot air to prepare food. 
An air fryer has its similarities to an oven in the sense that it bakes and roasts, but you shouldn't put every food in the air fryer that you can cook in the oven.
The difference is its heating elements are only located on top. 
There is a large, powerful fan that gives circulation of hot air in the fryer, resulting in faster heating and cooking.
There is a control panel that is usually a touch panel or a knob switch which makes it easy to operate. 
Most of the modern air fryers are being designed with removable baskets and racks, which makes cleaning them easy, they are safe to put in a dishwasher. 
The manufacturers usually give a couple of years of warranty on these products based on their brands.
Why cook with an Air Fryer?
Why should any family consider using an air fryer instead of a deep fryer? 
The answer is simple. To get healthier fried meals with the same crispiness but with less oil. 
Cooking with an air fryer by most measures, cuts calories by 75% and has a lot less fat than traditional deep frying. 
This cooking method might also cut down on some of the other harmful effects of oil frying.
What are the benefits of Air Frying?
A quality air fryer will last a long time and save you hundreds of thousands of calories over that period. 
That's a worthy investment, given that fried food is generally not healthy, because of all that excess oil. 
Thanks to air frying, one can continue to enjoy fried food with less calories like  fried chicken, fish, bacon, french fries and so much more. 
Some experts recommended using an air fryer when preparing frozen food, making cookies, and cooking bacon, these foods are a great match for the air fryer. 
You'll want to avoid putting over-seasoned food items, wet batters, and cheese in your air fryer since they can create a mess. 
Are there side effects from Air Frying?
While research on the effects of air frying food says that it may be healthier than deep-fried, it is still fried food and cannot be described as healthy. 
Compared to deep-frying, using an air fryer can reduce the amount of fat, calories, and harmful compounds in your food.
Although air-frying may be healthier than deep-frying. Fried foods are still associated with many negative health effects. 
Such as heart failure, high blood pressure, diabetes, and certain types of cancer. It is recommended to cut on fried foods to improve your health. 
Yet, if you enjoy fried food so much air fried food seems to be the best option.
What should you consider before getting an Air Fryer?
First, let's take a look at the price range. Most people think that this type of product should cost at least a couple of hundred dollars. 
And usually, air fryers do cost more than $200. 
But in this case, you can get some good quality long-lasting air fryers under $100 that suit both your budget and needs.
You should first think about the capacity of the air fryer. 
Let's say, if we do the math, more suitable air fryers for small families on the market are the best air fryers under $100. 
This has enough capacity to cook food for 3-5 people at once, which can make everybody happy, saving you to pay more money for a bigger air fryer that you don't actually need. 
But for a bigger family, we recommend you to choose a large size air fryer with enough capacity that can cook food for everybody at once. 
Fried food has its best taste and crispness right after being cooked so you should not let it cool off. 
Air fryer with a larger capacity would be a little bit more expensive than a smaller one, but you can use it to fry a lot of foods together. 
Most air fryers will need counter space to put in your kitchen more than a toaster, almost like the microwave, depending on their size and capacity. 
Yet it is one you'll want to make room for. 
When shopping for an air fryer, consider how many people you're cooking for.
 Find the one that suits your lifestyle the most.
FAQs
What can you cook in an air fryer?
You can replace most of the foods you put in the traditional deep fry. 
Anything you can bake, the air fryer should be able to cook, but don't use the same temperature and time to cook, since the heating in the fryer is usually faster. 
The air fryer cooks them to the perfect temperature. 
Air fryers can cook chicken, eggs, vegetables, seeds, steak, lamb chops and are very good at cooking frozen food. 
What not to cook in an air fryer?
Air fryers don't need too much olive oil as it burns at high temperatures. Cheese can melt into a mess in the air fryer. 
Some vegetables like broccoli and cauliflower can dry in the air fryer. 
Foods like rice or pasta that need to be submerged in boiling water can't be cooked inside an air fryer. 
What are the health benefits from cooking with an air fryer?
Air Fryer making companies advertise this appliance as a better way of making and enjoying fried foods. 
Yet, without the adverse health effects of oil-fried foods. 
Air-fried foods have a lower fat content than deep-fried foods by more than 75%. 
They reduce the risk of toxic acrylamide formation. 
Using Air Fryers over deep fryers can result in weight loss. 
Conclusion
Our top pick in this category is the OMORC 6 quart Air Fryer. 
With its large capacity and compact design, this product fits perfectly in the kitchen. 
It's a very powerful air fryer without making a lot of noise. 
Also worth to mention is that this product comes with many function options and presets. It's easy to operate and clean. 
I hope this review will help those who have a limited budget to buy an air fryer. But keep in mind low price doesn't mean those are low quality. 
Few air fryers under $100 have some form of warranty, so you have to be extra sure that you're buying something quality.  
Since you went through the article have you considered getting another appliance in your kitchen? 
Or switch to the air fryer on your counter with the traditional fryer? 
If you eat fried food with the air fryer you get healthier meals and cutting the fat and calories. 
When it comes up to making french fries or chicken nuggets the air fryer is the best option.