---
We like to share product recommendations with you and hope you like them! Just to make you aware Kitchen Gadgets Maven may collect a small share of sales or other compensation from the links on this page.
---
Kitchen Gadgets Maven is reader-supported and may earn a commission when you book or purchase using our links. Learn more about our affiliate disclaimer here.
Who doesn't love a perfect homemade burger? You usually buy it in the store but still worry about ingredients, not including some additives, preservatives not good for health. A trip to buy a burger isn't always on the menu so it's nice to have the means at home to make something delectable. Therefore, you want to make a burger at home by yourself to definitely ensure the quality ingredients of the burger.
However, you often get stuck in shaping it perfectly and spend a lot of time kneading. Follow the information about the Top 5 Best Patty Makers (Burger Presses) below before making a decision to purchase the burger press for you.
Best Patty Makers Comparison Table
Patty Makers (Burger Press) benefits
Burger presses create perfectly shaped and sized burgers, keeping the meat fresh and cold by lessening the need for handling. A burger that is densely packed doesn't need binding ingredients either, resulting in a pure patty. 
Learn more about the benefits of using a burger press:
Less Handling:
Burger presses allow you to pack patties without squishing the meat between your warm hands. Heat radiated by your hands can cause it to lose proteins. Using your hands to pack raw meat can cause the fat to melt and the meat to break apart which causes a mushy, unappealing texture when it's time to eat your burger.
Keep That Raw Meat Cold: 
The majority of burger presses are metal, so you can keep them chilled in the refrigerator which keeps your meat cold too.
Uniformity:
Burger presses make uniform patties: same weight and diameter every time. Uniform patties cook evenly throughout and will come to the temperature around the same time on the grill.
Perfect Weight: 
Burger presses help achieve the weight you're going for.
Little to No Cleanup: 
They're less mess. Especially if you use Patty Paper. I'll let you in on a little "secret:" Put Patty Paper on the bottom of your Press. Put a ball of meat on top of that. Put another piece of paper on top of the meat. Press. Whoa! There's a perfect patty enclosed in paper and no meat on your press. Nice, right?
Purer Patties:
If you use a press, there's no need for an egg. Or breadcrumbs. Or whatever meatloaf-intended binder you're junking up your patties with. A press will pack them tightly enough, without making the mush you get when you use your hands. So save that egg to fry over-easy and throw on top later!
Prettier Patties:
The burgers look good. Who doesn't enjoy a perfectly round, evenly dense patty?
Types of burger press (patty makers)
Plastic 
When it comes to plastic or silicone hamburger presses, the first thing you'll notice is they are lighter weight. The weight makes these presses easier to move around, especially when compared to more substantial stainless steel presses.
Steel
Burger presses made using steel tend to be the most reliable. 
Typically, they're better at withstanding heavy, frequent use when compared to plastic presses. Also, although they generally aren't dishwasher friendly, cleaning them isn't that difficult either – usually, they take soap and water.
Aluminum
An aluminum burger press is generally a decent balance between weight and durability. 
With aluminum, you usually receive a press that resists corrosion well and will serve you well for years of patty-making. They're also typically cost-effective – aluminum presses are cheaper to produce and to ship than their steel cousins.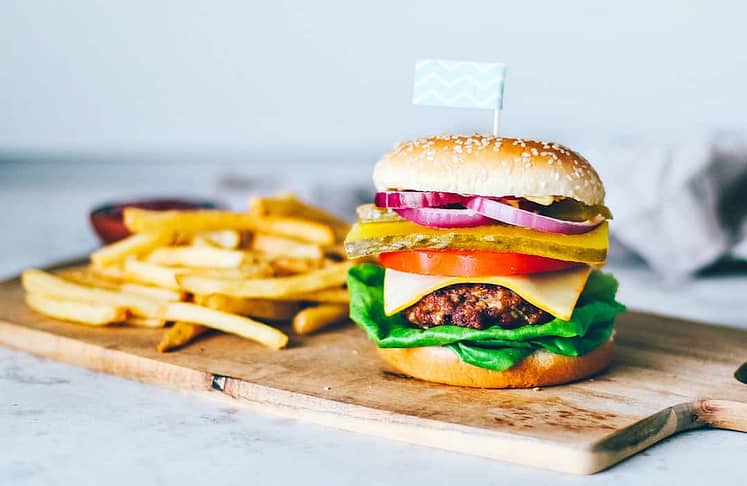 Best Patty Makers – TOP 5 Reviewed
Bellemain Burger Press Non-Stick Hamburger Patty Maker
The Bellemain Burger Press Non-Stick Hamburger Patty Maker is made out of an aluminum housing that feels reliable and long. Bellemain designed a crafty mechanism for cleaning – it's easy to take the machine apart when it's time to clean up (and it comes back together just as fast).
Although it features a non-stick coating, some users report your patties may still stick – watch out for mixtures with a lot of water or fat. You might want to use wax paper on the bottom and top cubbies of the press while in use to help prevent that.
It does seem to press down quite firmly, and the spring-loaded pusher made it easier for most users to remove patties. However, for some users, the press didn't seem to move straight up and down. There was some wiggle room, so if you aren't careful, you might end up with misshapen burgers.
| | |
| --- | --- |
| Pros: | Cons: |
| | Some users say it doesn't always create uniform patties |
| Simple to take apart for cleaning | Might stick without the wax paper |
| Users report it has a firm press | |

Weston Burger Express Patty Maker

The Weston Burger Express Hamburger Press has an adjustable thickness that users appreciate. You can make a variety of burgers that range in thickness from 1/4 inch to 1-1/2 inches thick, and you can even adjust the
patty weight from 1/4 lbs to 3/4 lbs. The Weston Burger produces patties with a standard diameter of 4-1/2 inches.
When you create the patties, it may not always produce a perfectly tight fit, but the spring plunger button can help make it more compact. This also can make for a simple removal process. Burgers generally seem to be consistent too for even cooking.
As you're using the burger press, the bottom features a stable, rubber material so that it won't move around. In spite of this design, the press appears to be a bit top-heavy. Some users report that it can tip a bit, creating something unstable unless you take care of how you use it.
As a whole, the press is made from heavy aluminum that features a non-stick coating. The burgers don't seem to stick, and the construction is reliable for long-term use.
| | |
| --- | --- |
| Pros: | Cons: |
| Stable bottom keeps it from moving around | Might not be tight-fitting when pressing a burger |
| Users mention it accommodates various patty thickness | Top-heavy design that some users have trouble with |
| | |

Cuisinart CSBP-100 3-in-1 Stuffed Patty Maker

The Cuisinart CSBP-100 3-in-1 Stuffed Burger Press provides you with more versatility in your burger creations. You can use it to create a standard burger patty or utilize the indention press to create just enough room to make stuffed patties.
It's user-friendly, too – you can create many different patties in a short amount of time. There doesn't appear to be much mess made when using it, and once you form your patty, you can press up from the bottom to remove it.
If there is something you want to watch out for, it's that the handle on the burger press might rotate a bit when you're using it. Be sure to have a stable grip to keep everything in place and press with the appropriate amount of pressure.
Also, even though it's easy, you may want to run some trial and error with the press. Some users found the recommended measurements don't always produce the expected results. You might want to add just a bit more meat to accommodate the stuffing part of the press. Otherwise, you may come away with too little meat!
| | |
| --- | --- |
| Pros: | Cons: |
| Easy to pop the burgers free | Users report a chance for the handle to rotate |
| Innovative 3-in-1 burger-making design | Measurement instructions seem off to some owners |
| | |

GWHOLE Non-Stick Patty Maker
The GWHOLE Non-Stick Burger Press is an affordable press made from durable, food-grade aluminum. It features a removable handle so you can better store it – and it also makes cleaning simpler. There are some user reports that the plastic handle doesn't exactly feel comfortable, though.
Overall, the GWHOLE burger press has a simplistic design that makes it straightforward to use. Some of you may have trouble getting the patties out at times – there's a chance they may stick in the press. However, the GWHOLE does come with 100 pieces of wax paper out of the box, and wax paper will ease the process a bit.
If you're concerned about aesthetics, there are grill lines on both sides of this burger press. This way, even if you cook your burgers indoors on the stove, they will still look like they came fresh off of the grill.
When you press down on the press, users report everything seems to offer the right consistency. This way, you can create more uniform patties. To adjust the thickness, you merely change the amount of pressure you're placing on the press.
| | |
| --- | --- |
| Pros: | Cons: |
| Patties have a consistent size | Grip may not be comfortable |
| Owners appreciate removable handle for storage and cleaning | Some users report patties sticking inside |
| Simple design for ease of use | |

Shape+Store Burger Master 8-in-1 Patty Maker

 The Shape+Store Burger Master 8-in-1 Burger Press has the excellent ability to make several patties at once. It is capable of holding a total of eight separate patties. Each mold holds approximately 2 pounds worth of burgers at once.
The Shape+Store is made from a plastic, silicone-like material that is dishwasher-safe, making clean-up simple. Things can get messy when you use it, though, as some users mention that filling the mold with meat isn't mess-free.
Unlike some other burger presses, this one is not just safe for the dishwasher, but it's also freezer-safe. With the Shape+Store, you can create large batches of burgers, place the top of the burger press, and place it in the freezer for use later on. If you purchase more than one of the Shape+Stores, you can even stack them!
The size of the patties once you make them may not be as big as you expect, though. They come out at just over 3 inches in diameter with about 1 inch or so in thickness. However, they do seem to pop out well for cooking – even if you freeze them.
| | |
| --- | --- |
| Pros: | Cons: |
| Users appreciate the convenient design | Some users feel the size is too small |
| The cleaning process seems quick | Can be messy to press ingredients into the mold |
| Large batch for those of you that need multiple patties | |

Patty Maker Frequently Asked Questions
How to keep the patty not sticking to the patty makers?
If you feel the non-stick coating of the press is not good, you can put the patty paper on the bottom and top of the patty. I think this is a great solution.
Should I close or open the lid of the burger press while grilling it?
Depending on the burger thickness and the kind of food you grill to close or open the lid. If you grill thick chicken or anything like that, you should close the lid. If you grill chops, shrimp or thin steaks, you can open the lid.
How can I clean my patty maker?
Follow these simple four steps to clean your burger press:

If your burger press has an adjustment screw then you remove the adjusting screw and all of the disassembled parts

Soak it in warm water

Use soap to wash

Purify and hand dry
Generally, the burger is usually grilled at 375 degrees to 400 degrees. Besides, you should check the thickness of the burger to decide the amount of time for grilling.
My Pick for Best Burger Press (Patty Makers)
In this roundup, my choice for the best hamburger press was:
Bellemain Burger Press Non-Stick Hamburger Patty Maker.
There are various thickness adjustments, and changing between them was simple for owners. It provides a firm, stable base and is constructed of durable, lightweight metal.
You can even disassemble it for quick cleaning, making for an overall convenient piece of equipment to keep in your kitchen.