---
We like to share product recommendations with you and hope you like them! Just to make you aware Kitchen Gadgets Maven may collect a small share of sales or other compensation from the links on this page.
---
Kitchen Gadgets Maven is reader-supported and may earn a commission when you book or purchase using our links. Learn more about our affiliate disclaimer here.
If you are a fudge enthusiast, chances are finding the best pot to make it in is a crafty detail you pay attention too. After all, you need one that not only handles heat well but will not scorch your beloved dessert.
I do remember my childhood days when my mom would make hot fudge. She poured them over the fresh and hot out of the oven brownies that we would have for dessert. Truth be told, I never really paid attention to the saucepan she used.
When you have a sweet tooth for fudge, what kind of saucepan offers the best option for melting? Is the heat distribution even? Do you want a saucepan that offers not only high quality but affordability as well?
To answer your questions, there are several pots available that will satisfy your curiosity. Not only are most of them affordable, but your fudge will come out perfect every time. All of them are capable of handling high heat without warping.
There at least seven pots you can use to form your delicious creation. Be sure to look at the price to see if they are worth the money you put into them. Some can be expensive, while others come at a very affordable price.
1. Homichef Mirror Copper Band Sauce Pan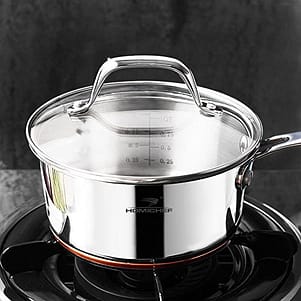 This is a gorgeous saucepan that you can find in two sizes. One is one quart, while the other is 2.5 quart. These pots heat up faster than normal cookware and can handle heat really good thanks to a healthy grade of stainless steel.
The make of the Homichef saucepan is what keeps it from warping due to the high heating temperatures. I would buy this pan for the simple fact that I love stainless steel. It comes with a nonstick surface and is cheap.

---
2. Pioneer Woman Copper Charm 4 quart Saucepan
Now, this is a beauty. It comes with a lid and a copper base that takes on heat easily. The stainless steel is of an 18/8 grade which means you are in fudge heaven.
For what this pan has to offer, it is surprisingly affordable. It is mostly stainless steel with a copper base bottom. I would buy this one in a heartbeat.

---
3. Cooks Standard Clad Stainless Steel Saucepan
If you are looking for a saucepan that distributes heat evenly and offers a handle that does not get hot, this is your best option. You can make that fudge with ease and remain safe in the process. You can also safely place this saucepan in your dishwasher.
Considering how safe this pan is to use, buying it is not a problem. This beauty comes in 1.5 and 3 quarts. Just like the others so far it is very affordable.

---
4. Anolon Hard Anodized Nonstick 1 Quart Saucepan With Pour Spouts
Once you are done making your fudge, how are you going to pour it into another container? Well, this Anolon saucepan will do the job? The handle offers a nice grip so that you do not burn yourself.
If you feel the need to place this saucepan in the oven, it can take up to 400 degrees of heat. On the stovetop heat is distributed evenly throughout with no problems and nothing sticks inside it. If you want the most affordable saucepan that has a lot offer, this is one for you.

---
5. Rachel Ray Porcelain II Aluminum Nonstick Butter Warmer
Now do not let the name Butter Warmer fool you. This saucepan does melt hot fudge and distributes heat well. It is also 3/4 quart and comes in several colors.
It has a pour spout on one side and an easy grip handle. Also, the contents on the inside will not stick. It is also cheaper than most of the saucepans mentioned so far, due to the fact that it is not stainless steel.

---
6. Mauviel Copper 1 1/4 quart Sugar Pot
You have four choices in sizes with this one. They are 1.2, 1.9, 1 1/4, and 2.5. The copper itself provides the necessary heat distribution that keeps the fudge from having cold spots.
Having at least one copper pot in your kitchen is a must. This one is extremely affordable and offers better reliability. In other words, it will not warp because of high heat.

---
7. Matfer Bourgeat Copper Sugar Pan
This pan is simply plain cooper with a stainless steel handle. It comes in two sizes, which are the 1.75 and 3.5 quart. This pan is durable with heat and will not warp.
This pan does come with a hefty price tag but, if that is not a problem for you then go for it. It does get the job done with no issues. Best of all, the stainless steel handle does not get hot.

---
In Conclusion
When looking at a comparison of these fudge melters, your choice as to which one to use can be difficult. For one, most on the list are affordable. The last costs more but the saucepan is beautiful.
Overall, you can not go wrong regardless of your choice. These are the best saucepans out there. You probably have not heard some of the names out there but, now you know what you can add to your kitchen. Each pan is elegant in its own right.
In choosing a winner from the list, I would have to go with the Anolon. I choose this one simply because the pan is not only cheap but offers pour spouts and an easy to grip handle. This pan gives you more for your money. Whatever saucepan you choose, it will be worth it.