---
We like to share product recommendations with you and hope you like them! Just to make you aware Kitchen Gadgets Maven may collect a small share of sales or other compensation from the links on this page.
---
Kitchen Gadgets Maven is reader-supported and may earn a commission when you book or purchase using our links. Learn more about our affiliate disclaimer here.
The Instant Pot is a pressure cooker, saute pan, slow cooker, steamer, rice cooker, warmer, and yogurt maker. It seems that the only thing this kitchen show pony doesn't do is sanitize socks.
Our great-grandmas and grandmas knew what they were doing when they steamed vegetables with their metal contraptions and the instant pot is a prime example of that.
Because the food is not boiling directly in water, nutrients are retained and cook time is faster with the instant pot steamer basket. No added fats are needed so the calorie count stays low without sacrificing flavor.
If you have this must-have gadget of the year or just a cabinet full of pans that could use some accessorizing, steamer baskets for instant pots are a welcomed addition to any home arsenal and to your instant pot inserts.
The best instant pot steamer basket can work with both old fashioned and newfangled pots.
Things To Consider When Choosing Instant Pot Steamer Baskets:
Size
Choose the wrong steamer basket size and it won't fit inside your Instant Pot. That's why you need to read the product description to find out all compatible models. Buy a basket that's too small and it's going to float around your Instant Pot, which may leave behind a lot of damage. Besides that, it won't keep your food elevated, and you'll get the food boiled rather than steamed.
Ease of cleaning
Always go for a model that is dishwasher safe! You don't want to spend your time hand washing the wire mesh of the steamer baskets.
Type of basket
There are a few options to choose from: sectional steamers which use dividers to cook food, and stacked baskets that can steam different foods by stacking steamer baskets atop one another.
Why You Should Use A Steamer Basket In An Instant Pot
If you're a regular instant pot user, you will definitely want to keep the steaming rack or your silicone or metal steamer baskets at hand. The best thing about these baskets is that they elevate the food and keep it from sitting directly from the surface of the bowl.
Why is this important? Well, you can cook delicate foods like eggs, easily. Second, some foods are best cooked "dry" meaning without putting them in liquid – this is where the basket comes in handy, elevating the food.
Before jumping into the product potential of the instant pot, let's also discuss the versatility of steamer baskets.
Not Just for Broccoli Management
https://youtu.be/pYLnd3E1YXg
Steamer baskets of all types (metal, silicone, bamboo) are well known as the vegetable masters, but they can do so much more.
Steamed Eggs

Put the eggs on a rack or steamer basket to keep them out of direct contact with the hot water. Set the electric cooker to low pressure.
You get perfect eggs without wasting energy or having to watch the pot. Poaching isn't a problem either. Crack eggs into a silicone baking cup and place into an instant pot steamer rack or basket and set for 2-5 minutes. Easy.
Soft: 3-5 minutes
Medium: 5-7 minutes
Hard: 8-9 minutes
Dumplings and Muffins
Dumpling, breads, muffins, and cheesecakes are always better with a little moisture injection. With a container-in-basket method, it's easy to create a cornbread that's even better than the a cast iron skillet.
Nobody Likes a Soggy Bottom Meatloaf and Other Sundries
Ground beef, small hams, chicken, and other meats that don't cook as well or would absorb too much liquid benefit from a little lift. You want formed loafs to cook thoroughly without braising.
When elevated by a steamer rack or basket moisture is distributed more evenly around the food. This simple technique results in better browning, crispiness, and no waterlogging.
1. OXO Good Grips Stainless Steel Instant Pot Steamer Baskets with Extendable Handle
It's back to basics. When in doubt reach for a classic design and stainless steel steamer baskets. The folding, metal leaves allow for an instant fit in pots 8 inches in diameter and up.
The flexible design works equally well in an old instant pot or electric cookers. The feet are just under two inches, keep the food away from liquid, and fold flat for storage.
Best features. This simple, easy clean instant inner pot steamer basket has a modern upgrade, too. The stay-cool handle grip (an Oxo signature) has a hole for a fork to lift instead of fingers.
Pro: satisfaction guarantee, dishwasher safe, fits several size pots, extendable handle
Con: sometimes the extendable handle loosens, best to hand wash
---
2. Oxo Good Grips Silicone Steamer Baskets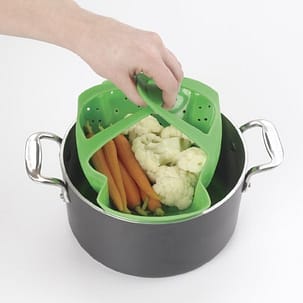 Felixible silicone brings it up a notch. Silicone has taken over a lot of the high heat tasks in the kitchen. Able to withstand temperature of 500 degrees, Oxo's Silicone Steamer baskets have such a low profile, they can sit in the corner of a drawer.
Silicone feet and high sides, keep food contained and away from the cooking liquid. It can accommodate electric or regular instant pots of a 7-inch diameter or greater.
Material flexibility allows the handle to fold down and fit secure without fear of interfering with lids. It's large enough to steam fish and rather sizable chucks of vegetables.
Best features. These little steamer baskets can be rolled up like a scroll and the handle locks over the legs, keeping it in just the right shape to fit into a drawer pocket or even into an upright storage jar. What more could you wish from an instant pot?
Pro: food-grade silicone, dishwasher safe, large capacity, flexible handles
Con: legs may be too short for steaming in a regular pot if too much water is added. No silicone handle.
---
3. Ekovana Stackable Stainless Steel Pressure Cookers Steamer Insert Pans – For Instant Pot 6-Quart
Steam all the things. The bamboo steamer basket design gets a major upgrade in Ecovana's 2-tier pans made especially for electric pressure steamers.
These instant pot steamer baskets can go the extra mile with pot-in-pot cooking when single steamers can't. It will not only steam fish, mean, and vegetables but can also serve up cheesecakes and layered pasta dishes.
Durable stainless steel body and lids are dishwasher safe, and the convenient handle lifts both tiers together for hassle-free extraction.
The size of this instant pot steamer fits perfectly in 6-quart cookers, is snug in a 5 quart, and rests in an 8 quart with ample room.
Ekonova is a company committed to its customers and boasts a 100 percent, money-back, satisfaction guarantee.
Best features. The included handle can be used to lifted spring form pans and Pyrex bowls used in the pot-in-pot cooking methods.
The containers can go from cooker, to service, to fridge which saves the need to dirty dishes or find orphan lids to the Tupperware.
Pro: prompt customer service and full guarantee, versatile handle, cook two meals at once
Con: each layer is 1.5 quarts, may not fit all electric cooker types
---
4. Instant Perrt Six Quart Steamer Basket
For those big jobs. If you want to steam a bunch of eggs, corn on the cob, or whole potatoes, this tall mesh steamer basket sold by Instant Perrt can handle the bulk.
This steamer basket is friendly to pressure cookers and was built to fit the 6-quart Instant Pot. The two hand grips facilitate even lifting even with heavyweight and are looped not welded.
This means the handles of the instant pot steamer fold up and out of the way and won't interfere with the lid.
Best features. The mesh is fine enough to throw in bones and vegetable scraps to make homemade stock.
Pro: kitchen-grade stainless steel, custom fit
Con: steamer basket not made to fit higher than 6 quarts, mesh is hard to clean. Won't fit in 8 quart instant pot.
---
5. Aozita Instant Pot Steamer Baskets with Removeable Dividers and Rack
Score for versatility. If you are looking for the most bang for the buck, Aozita's stainless steel instant pot steamer basket combines the separation of stacking baskets with the ease of the basic petal steamers (great instant pot).
The modest hole size works well for meatloaf and other soft foods like dumplings, firm rice puddings, bread puddings, and Portuguese style couscous.
If more than one steamer basket is purchased, they can be stacked in larger capacity cookers to create a multi-tier much like the bamboo steamers.
Best features The removable dividers sections the base into three and the included rack to keep the base lifted out of the cooking water can also be used separately as its own steaming rack, a cooling rack, and a trivet.
Pro: stainless steel, models fit 6, 8, and 10-quart cookers, dishwasher safe, 2-inch legs on the rack, easy to use
Con: limited 1-year warranty, low sides
---
Which Contender Deserves Cabinet Space?
Although all the featured items have their appeal depending upon your individual needs, two accessories lead the pack.
Oxo Good Grips Silicone Steamerand the Ekovana Stackable Pans really earn their place. If you are a fan of silicone, then Oxo is the winner.
Whether electric or cooktop, this deceptively simple Good Grips tool fits any pot like no other on the list when it comes to instant pots. Flexible handles won't crowd the pot or interfere with the pressure cooking seal. It's number one in compactness.
Ekovana Stackable Insert Pans have the advantage doing more than just sit in a pot. They perform the function of casserole dish, serving tray, and storage container.
They can go right from fridge to reheating too. More than one meal can be prepared at a time by putting the longer-cooking items on the bottom and the delicate ones on the top.
Because the tight-fitting lids and the body aren't mesh, cleaning the instant pot is easy. These time savers can do just about anything from roast chicken to quiche to custard.
Whether you choose stainless steel or silicone, remember that the grandmothers of kitchens past had the right idea when using the instant pot.
Steamer baskets are made for your Instant Pot and allow you to cook your food in a healthy way.
If our picks are not quite what you were looking for, then you should definitely check out the rest of the options from this list. We've made sure that this list has something for every household. Pick out the most appropriate option for your life and start cooking in more healthier, leaner way.
Bottom line, when it comes to buying steaming accessories for steamer baskets, ask two questions: is it easy to use and clean and what else can it do?