---
We like to share product recommendations with you and hope you like them! Just to make you aware Kitchen Gadgets Maven may collect a small share of sales or other compensation from the links on this page.
---
When you look for the best kettle for your glass top stove, what should your priorities be?
Different kettles come with different features. Whether these appeal will vary depending on your circumstances and personal tastes.
When picking a kettle, the three main focuses you'll have are carrying capacity, aesthetic, and function.
Carrying Capacity
A kettle with a larger carrying capacity can brew more tea at once. However, it can also be cumbersome and unwieldy if you prefer working with smaller appliances. Pay attention to the carrying capacity and overall size of your ideal kettle.
Aesthetic
Kitchen Gadgets Maven is reader-supported and may earn a commission when you book or purchase using our links. Learn more about our affiliate disclaimer here.
No matter how you like to decorate or design, the kettle you choose should make you happy. It should feel like it fits in the space you want to live in. Some people prefer sleek, modern designs, while others like a more quaint and vibrant approach.
Function
How easy is it to pour the tea? What about cleaning the pot? Is the kettle dishwasher safe? How fast does the water boil?
All of these questions will affect the amount of satisfaction you get from your kettle.
With these things in mind, we've put together our top 5 kettles for a glass top stove.
Our Top 5 Best Tea Kettles
#1. Chantel Enamel Classic Kettle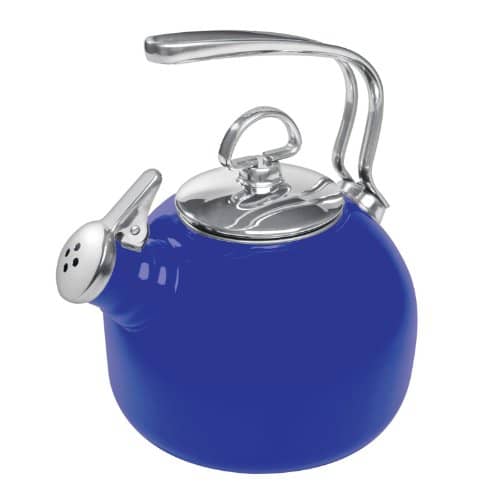 This kettle includes every feature you might want in your average teakettle, along with some additional bonuses you never knew you wanted!
The durable design features a combination of carbon steel and stainless steel, able to hold up to repeated use for many years. In addition to the durability, the material combination let heat be distributed quickly and evenly.
It's easy to clean this kettle thanks to its removable parts and dishwasher-safe engineering. For a unique bonus, this tea kettle whistles two notes instead of one. The harmonica-type sound is lovely and refreshing.
The kettle has an overall capacity of 1.8 quarts, with an enlarged lid for easier cleaning. Also included in the package is an additional mitt designed specifically for the handle.

---
#2. Le Creuset Stainless Steel Kettle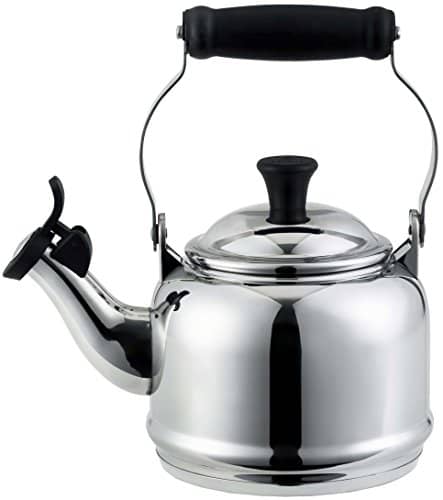 A close second on the list is this stainless steel kettle from Le Creuset. The goal of the kettle is to provide high quality through design effectiveness and efficiency.
The handle can lock into the upright position, and the spout flips open to allow easy pouring. The kettle's rim is made from stainless steel, so it can avoid suffering breakage or cracking. Despite not including a mitt, the handle knob is heat-resistant to allow burn-free pouring.
This kettle comes with a 1.75 quart capacity and porcelain glaze that causes faster boiling rates, letting you brew your tea in no time.
---
#3. KitchenAid C Band Kettle
This 2.0-quart capacity kettle is a sturdy and durable design from KitchenAid. The vibrantly colored porcelain cheers up any kitchen, and the features provide an optimum brewing experience.
The kettle has a removable lid that makes cleaning and filling easier. The spout can be held down and released using your thumb. The design also has a comfortable handle that keeps cool while providing easy pouring.
Because of the porcelain exterior, this kettle heats fast on all types of stoves. You don't need to wait ages for your ideal cup of tea.
---
#4. OXO Good Grips Kettle
If your kitchen aesthetic is more focused on sleek modernism than bright color, this may be the kettle for you. This kettle has truly been updated for the modern world, boasting a streamlined design and stunning stainless steel finish.
The easily used spout opens automatically when tilted, so you don't have to deal with any hassle. The handle is also a miracle of design, combining heat and slip resistance for ultimate safety.
When your tea finishes brewing, this kettle will whistle a loud alert that can be heard from several rooms away.
For people who don't want loud appliances, this might not be for you, but people who appreciate alarms will be pleased.
---
#5. Hario VKB Buono Kettle
Some kettles are devoted to tea and tea alone, which is great for tea enthusiasts. However, a versatile kettle can help you when you're looking for some other drink. This flexible kettle from Hario seeks to meet your needs.
The design's shape varies widely from most other kettles. The extra long spout is great for brewing tea, but can also double for drip coffee brewing. Because the spout is so thin, it's easy to pour spill-free drinks.
The flat lid can easily be removed for filling and cleaning, but it stays firmly in place while pouring. The handle incorporates heat-resistant rubber and special grooves to make grasping easy.
If you want to brew more than just tea in your kettle, this is the way to go.
---
Final Thoughts
Chantal – Classic and musical
Le Creuset – Ease of use
KitchenAid – Bright and functional
OXO – Best grip and sleek design
Hario – Multiple drinks
When deciding on the best kettle, your choice will vary depending on what you're looking for.
The Chantal design combines classic kettle elements with a musical harmony that's sure to brighten your day. If you prioritize ease of use, you'll want to use the Le Creuset.
For people looking for bright and functional additions to their home kitchen, the KitchenAid aesthetic will work best. More modern kitchens can benefit from the futuristic design of the OXO.
And if you want your kettle to double as a drip coffee brewer, you'll be well served by the Hario.