---
We like to share product recommendations with you and hope you like them! Just to make you aware Kitchen Gadgets Maven may collect a small share of sales or other compensation from the links on this page.
---
Kitchen Gadgets Maven is reader-supported and may earn a commission when you book or purchase using our links. Learn more about our affiliate disclaimer here.
Every home will need a quality nonstick pan, but which nonstick pan is going to provide you the best results? Although there are several different options on the market today, two of the most popular options available are the Scanpan and the GreenPan, largely because of the health qualities that they provide.
Both provide a number of benefits, so consider the following points of comparison when determining which one to buy:
Models Available
All GreenPan products are non-stick models, however ScanPan offers a more extensive lineup of products including some pans which are not made from other materials.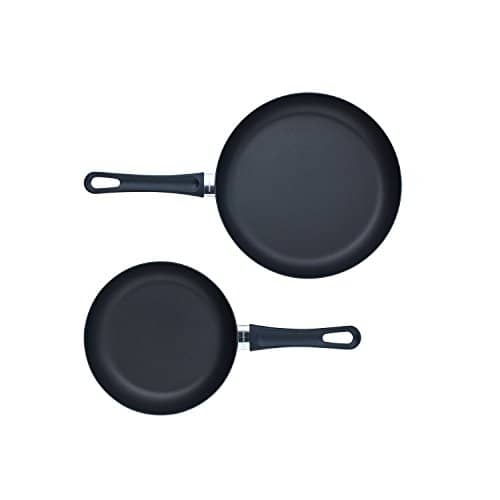 GreenPan's product lineup includes Barcelona, Brussels, Cambridge, Kyoto, Melbourne, Milan, Mini Essentials, Rio, Sofia, Stockholm, Velvet, and Wood-Be.
Each collection features distinct characteristics, some of which include dishwasher compatibility, ceramic coating, induction compatibility, oven compatibility, diamond enhancement and infinity ceramic coating.
ScanPan's nonstick products include Classic, CTX, Induction, Professional, and Stratanium. Like with GreenPan, each of the product lines ScanPan offers is distinct in its characteristics, offering benefits such as compatibility with metal utensils, dishwasher compatibility, induction compatibility, and oven compatibility.
Sizes
GreenPan products range in size from 12cm to 33cm, depending on the product line and style. For example, the Cambridge ceramic non-stick lineup includes 18cm, 20cm, 24cm, 26cm, 28cm, 30cm and 33cm products in frying pan, egg pan and fish pan varieties.
ScanPan products range in size from 8″ to 14.25″, depending on the product line and style. For example, the Classic nonstick frying pan is available in a 9.5″, 10.25″, 12.5″, and 14.25″ variety as well as a 10.5″ by 10.5″ square frying pan.
Coating and Construction
Both ScanPan and GreenPan stand out from other nonstick cookware brands because are crafted without the use of PTFE, a synthetic substance capable of producing a pollutant regarded as a potential carcinogen.
Because ScanPan and GreenPan nonstick products do not use PTFE, they are healthier and eco-friendlier compared to other nonstick pots and pans. GreenPan uses Thermolon, which is durable, scratch-resistant and resistant to corrosion.
ScanPan cookware, reputed to be "harder than steel," is both scratch- and abrasion-resistant and can be used with metal utensils.
Despite this claim, in order to elongate the lifespan of your nonstick cookware since the finish does eventually wear over time, it would be wise to use wood and plastic utensils when cooking with ScanPan cookware whenever feasible.
Induction Compatibility
ScanPan offers several induction compatible pans, including products in the CTX and Induction Plus product lines. GreenPan's Venice Pro and Stockholm models are both touted as particularly induction-friendly models.
These are the models you should look into when cooking using an induction top, because most nonstick cookware models are not induction top compatible.
Dishwasher and Oven Compatibility
ScanPan's Classic line is oven-safe to 500° Fahrenheit. GreenPan's Lima line is oven-safe up to 420° Fahrenheit, but Paris products are safe up to a maximum temperature of 850°F.
Some models are best left out of the oven all together, such as the GreenPan Rio, which should not be in the oven beyond a temperature of 350° Fahrenheit.
If oven compatibility is a consideration of yours, make sure to check the brand and model you are considering.
Several of both ScanPan and GreenPan's products are considered to be dishwasher safe, however this will decrease the overall lifespan of the product. Washing nonstick pans by hand will improve their lifespan.
ScanPan models that will survive a dishwasher cycle include Classic, CTX, Induction, Professional, and Stratanium. For GreenPan, consider Brussels, Barcelona, Cambridge or Melbourne.
Evenness in Cooking
ScanPan and GreenPan both have received high marks in the area of cooking evenness, due to the thick, flat bases of their pans. Some GreenPans have been reported not to perform as well as well on electric stoves, namely Paris and Rotterdam product lines.
Performance and Durability
GreenPan and ScanPan users have reported lasting durability with both frequent and less frequent use, with the products lasting approximately one year before beginning to lose durability with frequent use, and up to three years with less frequent use.
GreenPan users, however, have noted some chipping of the ceramic coating which may indicate that the GreenPan brand is a little more fragile as compared to ScanPan.
Warranty
Limited lifetime warranties are available with both GreenPan and ScanPan products, no matter what you buy. The warranty will promise a replacement product in the event of a defect in manufacturing or damages.
However there are circumstances where the warranty is voided, such as if the cookware is purchased from an auction website such as eBay.
The warranty also will not apply to defects that result from accidental damages or misuse. For more information on individual warranties, it is advisable to visit the manufacturing websites for the individual products.
Pros and Cons: ScanPan
Pros
Non-Stick Surface
Toxin-Free Coating
Eco-Friendly
Unlikely to Deform or Warp
Cooks Food More Evenly
Cons
Loses Nonstick Coating Over Time
Pros and Cons: GreenPan
Pros
Non-Stick Surface
Toxin-Free Coating
Eco-Friendly
Unlikely to Deform or Warp
Oven- and Dishwasher-Safe
Cons
Loses Nonstick Coating Over Time
More Fragile Than ScanPan
Conclusion
Because there are models in around the same price range for both the Scanpan and the GreenPan for these particular brands it will really come down to personal preference for these brands of cookware if you are choosing between either of these nonstick pans.
All nonstick cookware will lose its non-stick properties overtime, but the GreenPan may lose its coating more quickly than most. The ScanPan models have been reported to cook more evenly, especially over time.
The toxin-free coating offered by both the GreenPan and the ScanPan is a huge attention draw, because both of these are eco-friendly options that rarely warp or deform over time.