---
We like to share product recommendations with you and hope you like them! Just to make you aware Kitchen Gadgets Maven may collect a small share of sales or other compensation from the links on this page.
---
Kitchen Gadgets Maven is reader-supported and may earn a commission when you book or purchase using our links. Learn more about our affiliate disclaimer here.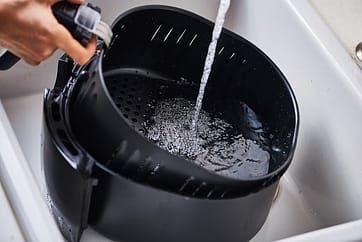 We all had those nights where we are just starving. Sooner or later we find ourselves eating three dishes, laying there on your sofa not wanting to move a muscle. Then the morning hits and we are stuck there with our dirty Air Fryer regretting the mess we did last night. How to Clean a Air Fryer? Well here are some tips on how to clean a air fryer, make it spotless and ready to use.
How to clean a Air Fryer: why is cleaning your Air Fryer important?
An air fryer uses hot air and very little oil, so cleanup is going to be easy.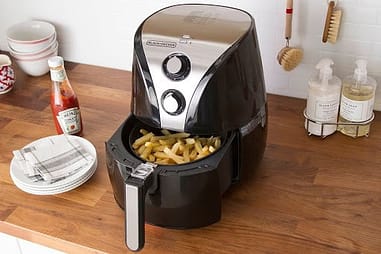 So, it's important to know that during air-frying, any oil or fat in the food basket drips or splatters into the pull-out drawer that encases the basket.
You might not notice it after a few cooked dishes, but over time that grease can build up in the drawer and on the heating element, and there might be odors that are unpleasant or even see some smoke build up as you are cooking your food. 
This is because those bits and oils trapped in the holes will keep getting cooked over every next dish you prepare.
That's why you should clean your air fryer after every use!
What to Wash After Each Use
The basket, tray, and pan can be washed with soap and warm water. Or, if you don't feel like washing them by yourself the dishwasher will do this job for you effortlessly. 
Keep in mind that most Air Fryers have dishwasher-safe pieces, but check the instruction manual that comes with your specific model first, just to be sure. 
Make sure that all the parts are dried off completely before returning them to their place.
If the basket or pan has some grease or some bits of the meal, make sure to soak it in hot water and soap for 20 – 30 minutes. 
The grease and bits will easily come off when you scrub the pan and basket with a brush.
Remove the basket, tray, and pan to clean the inside of your Air Fryer. You can first, run a damp cloth (sponge) with a little bit of dish soap and wipe the inside of the fryer. And then you have to get a dry towel and wipe it again. 
Make sure to get all the moisture out so it doesn't affect the Air Fryer in any way.
How to Deep Clean a Air Fryer
If you haven't given your air fryer a good clean lately, or you just don't know where to begin, here are your instructions on how to clean your air fryer from start to finish.
Essential tools for deep cleaning a Air Fryer
Damp microfiber cloth  / non-abrasive sponge

Dish soap

Baking Soda

Soft-bristle scrub brush

3 clean Cloths
Guide on how to clean a Air Fryer
Make sure that your Air Fryer is unplugged and if it was used recently make sure it cools down for about 30 minutes.

You can start by removing the pans and baskets.

First, wash them with soapy water for 30 minutes

Check if there is any grease or food left

Now it's time to take the grease and food out and the best way to do it is with a non-abrasive sponge.

Check your manual to see if some of these parts are safe to be cleaned by a dishwasher!

After checking, if you prefer you can use the dishwasher to clean the pans and baskets

Get one clean cloth(preferably microfiber or non-abrasive sponge). The cloth has to be damp and you can put a bit of that dish soap to wipe down the interior of the Air Fryer.

Get the other dry and clean cloth to wipe away the soap and a bit of the water from the Air Fryer.

For this next step, you have to turn the Air Fryer upside down. Locate the heating element and wipe it with a damp cloth.

 

If step number one didn't properly clean off the baked or hard residue on the baskets and the pans you need to:

Make a paste using water and baking soda

Put the paste on the residue and let it sit for a couple of minutes

Get a brush and start scrubbing

When you are done get a clean cloth and wipe it away

Now it's time for the exterior. Get a damp cloth and wipe down the exterior of the Air Fryer. Now, get a dry cloth and wipe away.

For the final step, make sure all the components and the main unit of the Air Fryer are properly dried off before reassembling it.

Turn on your Air Fryer.
How to clean a Air Fryer: Deal With Lingering Odors
As you know that food can sometimes give off a strong smell while being prepared in your Air Fryer. Some smell even lingers on in there after you cook your meal and even after cleaning. 
This problem is easily fixable if u follow these steps:
Soak the baskets and pots in soapy water for 30 – 60 minutes

Clean then again with a brush

If these steps don't work then you need to get lemon and cut it in half. Use the lemon to rub the baskets and pots. And let it sit for 30 more minutes.

Rewash with a damp and afterward with a dry cloth.
How to clean a air fryer:  Vinegar and Water
This might surprise you but vinegar and water make a great combination for cleaning your Air Fryer. If you want to get rid of the smell and nasty oils you have to try a solution.
 The tools to clean your Air Fryer properly are:
1/3 cup of vinegar

2/3 cup of water

Clean cloth

Spray bottle
Take these steps to make your Air Fryer shine.
Mix the vinegar and water

Put the mixture in a spray bottle

Spray the Air Fryer

Wipe away the water and vinegar with the clean cloth
What to Wash Occasionally
As you know the Air Fryer doesn't get that greasy because of the lack of oils used in the frying. This means that you can lay off cleaning the exterior of the Air Fryer frequently. You can use a damp cloth to wipe the exterior down at longer intervals. 
You can also check the coil. It is very important to the heating of the food. So, if there are any oils or bits let the unplugged Air Fryer cool down before you start cleaning.
Get a damp cloth and wipe down the healer. It should be done just like you would wipe down the heating element on an electric stove.
Can I use a layer of parchment or foil in the basket?
I know that many recipes require you to use a layer of parchment, but you need to keep in mind that if you use too many layers of parchment or aluminum foil can block the airflow in the Air Fryer. Therefore, blocking the air from circulating efficiently in the machine. 
Because of the irregular circulation of the air small pieces can fly around and get stuck or burn on the heating element in the fryer.
When making these dishes you can use your air fryer paper liners that come with holes designed to overcome these issues.
Conclusion
So, there you go you cleaned your Air Fryer successfully! As you can see it was easier than you thought. 
Don't forget to unplug the machine before cleaning and always check the manual for extra help!