---
We like to share product recommendations with you and hope you like them! Just to make you aware Kitchen Gadgets Maven may collect a small share of sales or other compensation from the links on this page.
---
Kitchen Gadgets Maven is reader-supported and may earn a commission when you book or purchase using our links. Learn more about our affiliate disclaimer here.
Imagine the best-fried chicken you've ever tried. Now imagine that chicken was free of oil fat and wasn't deep-fried. Crazy, right?
The air fryer works some kind of magic on the chicken, and it crisps up into perfectly crunchy chicken as if it had been deep-fried. How to make fried chicken using an air Fryer?
Get crispy, golden brown buttermilk fried chicken in your Air Fryer!
This quick and easy Air Fryer Fried Chicken is tender, juicy, and delicious. If you have a craving and want to skip some fat try it this way.
Why Air-Fry?
An air fryer is a small countertop convection oven designed to simulate deep frying without submerging the food in oil.
First, there is a health benefit to air frying over deep-frying or pan-frying. While I do recommend very lightly spraying the fried chicken with oil before and during air frying, you don't submerge the pieces entirely in oil, and as a result, they undoubtedly absorb less oil in the process.
The Air fryer cooks your food by circulating hot air around it evenly, so that means that for the cooking to happen properly all the surface of your food needs to be exposed to the hot air.
The biggest advantage for me is time savings. It takes 30 seconds to flip on the air fryer, and the cleanup is much easier than dealing with big pots of hot oil.
The crust is crackly and tasty, and as long as you don't forget about it in your air fryer, it's still going to be juicy.
You'll love this crispy-skinned air fryer chicken, it's incredibly satisfying and the recipe is super simple!
We suggest getting the Phillips Air Fryer which will help you get that perfect chicken you have been dreaming of.

What's the Best Chicken To Use?
For my choice and taste buds, nothing beats buying a whole chicken and cutting it up yourself. This way, you get some dark meat and some white meat. I also believe in using skin-on and bone-in chicken, which leads to more flavorful and juicier chicken.
But my friends and family are not actually huge fans of the same kind of fried chicken I like. They prefer simple chicken strips, so I did some of those, too, and they work really well.
Chicken strips cook faster than bone-in pieces, so you run the risk of overcooking them and drying them out. Be sure to check strips frequently until they're just cooked through (165° / 75° to 170 ̊F / 80°C inside the thickest part).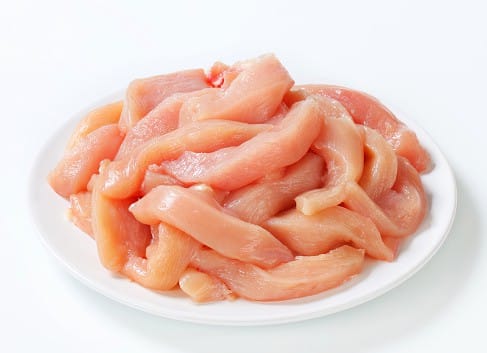 How to Bread Chicken
Any traditional fried chicken recipe can probably also be air-fried. It should work.
The one exception might be if you like a very thick breading on your fried chicken. If you double dip your chicken in flour for the coating, it's going to be hard to hydrate all that flour in an air fryer, and you'll almost certainly end up with floury spots that haven't really cooked.
For my air fryer chicken, I like to soak the chicken in buttermilk to give it that classic fried chicken tenderness. Then, I did it once in very well seasoned all-purpose flour. That provides a nice layer of breading on the chicken, but it isn't so much flour that it'll be a problem in the air fryer.
Reheating the Air Fryer Chicken
You might think that it's best to pop the air fryer chicken back in the air fryer for a few minutes to reheat it, but I don't recommend that, actually. You run the risk of burning the exterior of the fried chicken.
And you wouldn't want to ruin your perfect crusty outside, Right?
 If you have leftovers and need to reheat them, a 300°F / 150°C oven is your best friend. Here's what to do: 
Lay the pieces on a baking sheet, and bake them in the oven until they are warmed through. This will keep the crust relatively crispy and heat the pieces evenly.
Reheat for 8 to 10 minutes.
How To Make Fried Chicken Using An Air Fryer: Preparation Guide
If you haven't bought an air fryer yet I think this crispy air fryer crispy chicken will convince you to do it!
Marinate the chicken:
Season the chicken well with salt and pepper and then add it to a bowl with the buttermilk. Chicken pieces should be covered with buttermilk. Let it sit for at least an hour or up to overnight.

Preheat your air fryer to 400°F / 200°C.
Bread the chicken:
To prepare the breading mixture, stir together flour, seasoned salt, salt, pepper, garlic powder, and paprika.
Remove chicken pieces from the buttermilk and shake off any excess; then dip in the flour mix and coat well. Transfer breaded chicken pieces to a clean plate or wire rack to rest.
Air-fry the chicken
You will need to work in two batches if you are doing a full chicken. Spray the basket of your air fryer with nonstick spray. Place half of the pieces in the basket of your air fryer. Try to ensure the pieces don't touch. Air needs to circulate around them.
Spray the chicken pieces lightly with spray oil. Place the basket in the air fryer and turn the air fryer to 400°F / 200°C. Cook for 14 minutes, then flip the fried chicken with tongs, spray lightly with oil a second time on the bottom side of the chicken, and cook for another 10 to 12 minutes, until white meat reaches 170°F / 75°C. and dark meat reaches 175°F / 80°C (I find that cooking the dark meat a little more makes it more tender).
If you are getting floury skin, then definitely use the cooking spray on the chicken. That means that the flour isn't absorbing into your egg layer and that you didn't have enough moisture.
The breading will never crisp up if it doesn't have a tiny bit of oil to hydrate it. It will just burn.
Serve:
When the fried chicken is ready, let it rest on a plate for a few minutes before serving. Serve immediately with salad, coleslaw, mashed potatoes, or your favorite fried chicken sides!
Cooked fried chicken can be stored in the fridge for 5 days and reheated in a 300°F / 150°C oven for 8 to 10 minutes.
How To Make Fried Chicken Using An Air Fryer: Quick Fried Chicken Recipe
PREP TIME 15 mins
COOK TIME 45 mins
MARINATING 60 mins
TOTAL TIME 2 hrs
SERVINGS 4 to 6
Ingredients
For the chicken:

1 4-pound fryer chicken, cut into 10 pieces (2 breasts cut in half, 2 wings, 2 legs, 2 thighs)




1 teaspoon kosher salt

1 teaspoon ground black pepper

2 cups buttermilk

For the coating:

2 cups all-purpose flour

1 tablespoon seasoned salt

1 teaspoon kosher salt

1 teaspoon ground black pepper

1 tablespoon garlic powder

1 tablespoon paprika

Spray olive oil for cooking
SIDE DISH IDEAS
Need some side dish inspiration? Here's what I love to serve with it:
A cold and creamy salad pairs perfectly with bacon ranch potato salad or broccoli salad!
For potlucks serve it with deviled eggs, dill pickle dip, or dill dip with potato chips for dunking!
 I also love it with baked beans or bean salad!
Is the air fryer really worth it?
Well, I can't say for anyone else but when I first got my Air Fryer and made nuggets and fries for myself I was sold. However, when it came to making larger meals for friends and family, things needed to be cooked in batches. I found myself pushing my air fryer to the side and just going back to the oven so I could get it done all at once.
Pros & Cons
Pros:
It's versatile and quick.

You can cook a lot of things and pretty quickly too!

Set it and forget it.

It's nice not having oil to deal with! Just set the timer, check it halfway, and come back to perfectly crisp food!

Space-saving.

Some people use it daily and it's taken the place of their ovens! It's a teen's best friend because they can make all of their favorites (burgers, grilled sandwiches, chicken nuggets, fries, etc)

Easy to use.

Operating the Air Fryer is pretty darn easy.

Healthier.

Of course the obvious is that it doesn't require much oil if any.
Cons:
Certain from-scratch recipes have a learning curve. I cook primarily from scratch. It took me a few tries to get homemade fried chicken right.

It could be bigger. I cook big meals so I would have leftovers. It's really too small for my family and friends. It would be ideal for a single, couple, or small family with young kids.

The texture is "different" which I personally like, but other people might not enjoy it as much and it's just a matter of different opinion.
RECIPE FAQS!
How do you know when it's done?
The easiest way to check is with a thermometer. The internal temperature should be

165°F / 75°C.
Can I use boneless, skinless chicken breasts?
I don't recommend it because you don't get crispy skin!
Is it healthier to make it in the air fryer?
It's definitely healthier than regular fried chicken! The only oil you need to use for the air fryer is cooking spray. So, you definitely cut down on the fat and calories when you use your air fryer.
Can I stack the pieces in the air fryer?
No, you shouldn't do that! The pieces need to be in an even layer to cook properly. If you can't fit all of the pieces cook them in batches. You can keep the cooked ones in a warm oven while you finish the rest.
Does the air fryer cook the chicken faster than frying?
It takes longer to cook it in an air fryer, but it's less messy and easier to make than frying it. Not to mention healthier!
If you're looking to get a cheap new air fryer, check out our guide on the best air fryers under $100 on the market.