---
We like to share product recommendations with you and hope you like them! Just to make you aware Kitchen Gadgets Maven may collect a small share of sales or other compensation from the links on this page.
---
Kitchen Gadgets Maven is reader-supported and may earn a commission when you book or purchase using our links. Learn more about our affiliate disclaimer here.
Making ice cream can sometimes be messy and time-consuming. Imagine it's a hot sunny day and you suddenly feel the urge to cool off with some chocolate chip cookie ice cream? The problem is, you don't have the time nor you're in the mood to go to the nearest 7/11. Luckily, all you need to make quick and sweet ice cream is a blender and a few ingredients. Here, we'll talk about, how to make ice cream in a blender, the easiest, most delicious ice cream you can make in your home.
Why Should You Make Homemade Ice Cream?
Making homemade ice cream is a luxurious treat because there are endless options for customizing flavors and getting creative with experimental ingredient combinations. It is always rewarding, whether you're adding in your favorite flavor bases or mixing up your own unique recipes. A fresh batch of ice cream can be prepared within one hour, and you can have the flavor of your choice. Many different flavors are possible. The process is very easy, the only problem is deciding on which ingredients to use. There are over 25 unique types of ice cream, complete with different flavor combinations and advanced techniques that result in an inexpensive, smooth, creamy final product.
Homemade Ice Cream Recipe
The total time necessary to make this type of ice cream is around 1 hour and 10 minutes and a prep time of about 10 minutes. 
This will give you a total of 4 serves.
Ingredients
You will need the following ingredients 
1/2 cup cold whole milk

1/2 cup nonfat dry milk powder

1/2 cup heavy whipping cream

1/2 cup sugar

4 ripe peaches, sliced

1 teaspoon almond extract

2 (8-ounce) glasses of ice
How to make the ice cream
Once you have gathered your ingredients it's time to start the process.
First start with pouring the milk, milk powder, heavy whipped cream, sugar, and the peaches and almond extract into the boul of the blender.

Next, you blitz for 30 seconds

While doing this you can start purifying the fruit

Add the ice and start blending until it's smooth. This may take 2 to 3 minutes

Next, pour the mixture into a plastic container. Make sure the container is self-sealing or tightly seal it.

The next step requires patience, so, you need to place the container in the freezer for about 1 hour. You can check if it has solidified after the hour has passed.

You can serve it whenever you think it will be the best

For soft-serve, it takes less time than for a stiffer ice cream
Inspire your family to artful scooping with homemade ice cream. 
This recipe can be used as a base and then flavored with a wide variety of mix-ins such as spicy Mexican chocolate, mint chocolate chip, or even s'mores. 
If adding mix-ins, simply add them after the base is blended so the bits and pieces are not lost.
And because there are no strange stabilizers in this ice cream, it freezes to a scoopable consistency without using an ice cream maker.
Tips On How To Make Ice Cream In A Blender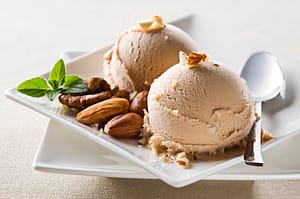 Tip 1: Use other ingredients
It is easy to make ice cream in a

blender

because the ingredients are simply combined, mixed, and frozen.

For example, an indulgent spin on ice cream can be made by substituting frozen bananas for sugar.

And if you use overly ripe bananas, which are quite sweet naturally, you are using the best healthy swap in your ice cream.
Tip 2: Be prepared
Another tip for making perfectly smooth ice cream at home is to take advantage of properly preparing your ingredients. Milk can be poured into an ice cube tray and frozen ahead of time. 

This keeps the ice cream from tasting icy because it adds more dairy without adding more liquid. 

The blender is strong enough to crush the ice or frozen milk so that the ice cream will not have an icy mouth feel and have a smooth, creamy texture.
The flavors are endless
Ice cream is one of the best desserts on warm summer days. When you're in control of the recipe, you can make whatever kind of ice cream floats your boat for your family and friends.  Feel free to experiment with fruit, chocolate, cookies, and other classics. Prevention magazine also compiled a list of healthy ice cream recipes that are high in good fats, protein, and antioxidants. That means that store-bought versions generally lack these nutrients and fiber. Now that you're aware of how easy it is to make homemade ice cream, keep these things in mind to make the process easier to repeat:
Frozen milk cubes
If you're planning ahead, pour some milk into ice cube trays and freeze them. Blend them instead of ice cubes to get a creamier and more consistent texture than if you used ice cubes.
Powdered milk
Adding powdered milk helps you achieve that rich and creamy texture, even if you use regular ice cubes. We hope this has been helpful, and remember –if you're pouring your protein over ice, it's pretty much just a glass of milk anyway.
Go for the toppings
Adding ingredients to the blender will turn your ice cream a different shade and create a consistent flavor throughout. However, feel free to stick with classic vanilla and embellish with toppings after. 
Alternatively, you can add chocolate chips and fruit chunks after blending so that their shape and texture are still intact.
Maintain your blender
You never know when the craving is going to hit. Be sure to keep up on your appliance maintenance so you always have a working instant pot to satisfy the hankering.
You never know when the craving is going to hit. Be sure to keep up on your appliance maintenance so you always have working tools to satisfy your cravings.
How long should I let the mixture freeze?
The last step for our ice cream is to freeze the mix for at least 2-3 hours so it sets. For soft-serve consider leaving the ice cream in the freezer overnight before serving.
Homemade ice cream usually lasts about a month in the freezer before it starts to develop texture problems and lose its flavor.
My Final Thoughts on How To Make Ice Cream in a Blender
Making ice cream at home is a fun activity for the whole family. It's a great way to make a treat together and have ice cream that's less expensive than store-bought. 
There's just something about a fresh, creamy scoop of ice cream that makes the world a happier and better place. 
Ice cream blenders make the whole process easy, whether you're making enough ice cream to share with family or friends or just making a small batch for yourself. 
You might even find yourself making ice cream more nights than not!
After you're done making your ice cream be sure to clean your blender right away. This helps make sure it's ready for the next time you need it.
No guilt, no sugar, no artificial ingredients in your premium brand ice cream. Simple ingredients are what's best for you. 
So enjoy your fresh homemade ice cream! Remember you can always experiment to find new fun and interesting flavors!
Find more tips and gadgets here!