---
We like to share product recommendations with you and hope you like them! Just to make you aware Kitchen Gadgets Maven may collect a small share of sales or other compensation from the links on this page.
---
Kitchen Gadgets Maven is reader-supported and may earn a commission when you book or purchase using our links. Learn more about our affiliate disclaimer here.
Craving something cold and tasty? The first thing that comes to your mind is a milkshake. And for good reason, it's the perfect summer drink for all generations!  But, it can be time and money-consuming to go out every time you want one, especially if there are no shops nearby, so most of the time you are just left with the craving.  Well, you're in luck! I'm going to show you how to make milkshake without a blender, from the comfort of your own home in just minutes. It's one of the easiest things to make for yourself or the kids any time you want.
Today I'm sharing a recipe for a homemade milkshake that you will absolutely love. Just follow these few easy steps and you will have your creamy and delicious shake in no time!
Can you make it without a blender?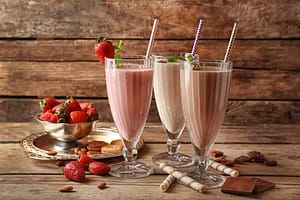 You really crave a milkshake right now, but you don't have a blender? Can you prepare a shake without it? Absolutely, and it's very simple. You just need a big spoon, a mason jar, a bowl, or a shaker with a lid. Either one of these things will be fine.
Before we explain the process, make sure you have all the ingredients you need. Check out the list below:
Ingredients
Ice Cream
Choose your desired flavor of ice cream. It can be whichever one you want, it will taste good anyway. The thing you need to pay attention to is the quality of the ice cream. An ice cream that is too soft will melt immediately, and if it's too thick, you can't mix it. This ingredient is not essential. You can make a milkshake without ice cream and put fruit instead! It's a healthier version but just as tasty. What's important here is that the fruits are refrigerated before you use them so your drink will be cold.
Milk
Just like ice cream, you can choose your desired type of milk. My recommendation is to use whole milk for the best flavor. For a healthier version, you can use almond or coconut milk. This is the main ingredient so make sure you have enough. The correct measure is: for every scoop of ice cream, add 2-3 cups of milk. Just remember that no matter what you put in the mixture, there has to be more milk than any other ingredient to ensure a smooth and creamy milkshake.
Add-Ons
This part is all you. Add chocolate, vanilla flavoring, coconut, or anything you want. It's your milkshake and you should make it as enjoyable as possible. Mix and match and you will get a new tasty milkshake every time. I suggest you use bananas or strawberries. Also, don't forget the whipped cream! It adds a special creaminess to the shake. 
Toppings
This is the part where you express your creativity. While shopping for the main ingredients, take a look around. You can use sprinkles, M&M's, or just plain chunks of chocolate. It's entirely your choice. If you need inspiration, research the internet and you will find a variety of photos with incredible-looking milkshakes. Get inspired and make your own 'social media-worthy milkshake.
How to make milkshake without a blender: 5 Easy Steps
Now that we've covered the ingredients, let's get down to the process of making a milkshake.
Step 1:
Since you don't have a blender or don't want to use one, the first step is getting a large enough container or shaker, preferably with a lid so you can mix the ingredients more easily.  A jar or a blender bottle with a lid is also a good choice. Important note: Mix the powder with the milk and then add the ice cream.
Step 2:
It's time to put the ice cream in the container. Because you are not using a blender, it's better to choose lighter ice cream. Your milkshake will not be as creamy as it would be with thicker ice cream, but it's easier to mix. If you don't mind the extra effort and want the creamy kind, use the thicker one. To make your job easier, let the ice cream sit at room temperature for 15 minutes. If you don't want to wait, you can heat it in the microwave for 15-20 seconds. Another thing you can use instead of store-bought ice cream is a homemade one. Also, consider using frozen yogurt.
Step 3:
Pour the milk over the ice cream. As I said before, for every scoop of ice cream add three cups of milk. Just like the ice cream, thicker milk makes a creamier milkshake. From this, it's up to you to choose your desired type.
Step 4:
After you've added all the main ingredients in, it's time to add the extras, if you have any. If you choose to add fruit or candy, it's a good idea to mash them before you put them in the mixture because it will be easier to blend them with the other ingredients.
Step 5:
Once you've put all the ingredients, it's time to give them a good mix. Use a big spoon to mash them together and distribute them evenly. When you've mashed the ice cream and can't feel any more clumps, you can stop mashing. Secure the container with a lid and shake it. It's important to shake it well so the milk, ice cream,  and all the extra ingredients blend as much as possible. The suggested shake time is 15 seconds, but if your mixture is still thick and solid, you can continue until you get your desired texture.
Other things you can use to make milkshakes
If you don't own a blender, but don't want to go through the struggle of mixing by hand, you can always use a few other kitchen appliances.
Food Processor
This appliance is designed to mix foods that are more solid than your milkshake ingredients, so it will do a great job mixing them to perfection. It only takes a few seconds and the mixture will be ready!
Stick Blender 
This appliance doesn't do the job for you, but it can help with mixing the ingredients more easily than a spoon.
Electric Mixer
This machine will mix the ingredients in no time. Just remember that if you use ice cream, leave it out so it softens before putting it in the electric mixer so it doesn't break down.
How To Make Milkshake Without a Blender: Summary 
I hope this easy process made you even more excited to make your own milkshake. It's fast and simple and you can enjoy your favorite cold drink from the comfort of your own home any time you want. 
Whichever ingredients you choose to add, I'm sure your milkshake will be tasty and enjoyable for the whole family.