---
We like to share product recommendations with you and hope you like them! Just to make you aware Kitchen Gadgets Maven may collect a small share of sales or other compensation from the links on this page.
---
In this article, we'll review the Air Fryer Vs Instant Pot and walk you through the differences between them to help you choose the right fit for your kitchen!
Both of these appliances can help you cook just about anything that you desire, but they prepare food in entirely different ways.
Though they both bring down the cooking time of many food dishes, they do so in their own way. 
The Instant Pot makes use of broth or water to produce steam and build up pressure within the cooking pot. This hot steam runs over food and cooks it at a very high pace. 
On the other hand, an Air Fryer makes use of small amounts of oil and superheats the air. This hot air circulates around the food quickly and continuously until it is cooked. 
If you are thinking of purchasing one or the other, you need to break down these differences. We can help you with choosing one that fits your cooking style the best. 
Instant Pot Overview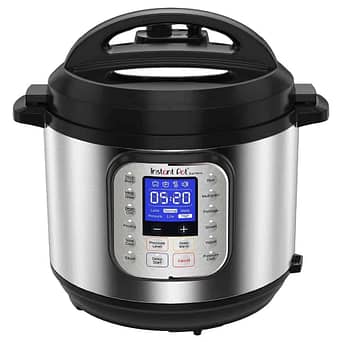 Kitchen Gadgets Maven is reader-supported and may earn a commission when you book or purchase using our links. Learn more about our affiliate disclaimer here.
The Instant Pot is a multi-purpose kitchen appliance that not only gives you tons of options but also cooks the dishes a lot faster than a traditional oven or stovetop method. 
The Instant Pot is an electric pressure cooker that is a massive upgrade from the old school pressure cookers. There are safety mechanisms to protect you when you use this and it works wonders. 
The instant pot's main selling point is that it can make delicious and nutritious meals in a matter of minutes by using a combination of heat and pressure. You should keep in mind that cooking times are a bit misleading, though. A manufacturer may claim that they can cook raw chicken from frozen to safe in ten minutes, but that time does not include how long it takes for the appliance to get up to pressure and depressurize afterward. This can take fifteen minutes or more. It's still pretty fast, but not as fast as you're led to believe. 
Air Fryer Vs Instant Pot: Instant Pot Pros & Cons 
Pros: 
They're more versatile. "It's a pressure cooker, slow cooker, [and] rice cooker," 

Saves time and headspace. Instant Pots are great for "setting it and forgetting it." 

Convenient for making big batches or feeding a large family. 

You can cook meat from its frozen state. No thawing necessary! 

Automatically keeps your food warm after it's done cooking. 
Cons: 
Bulky. Instant Pots can take up valuable counter space. 

Can be difficult to clean.

Not as "instant" as you might think. It takes a while to come to full pressure/heat to cook your food. 

Some versions are pretty costly. 

If you don't follow the directions, you can overcook your food. 
Air Fryer overview
Just like the name suggests, an air fryer is an appliance that uses hot air and minimal oil to cook food. In addition, air fryers are a lot safer to use than appliances that need a lot of oil and don't make as much of a mess. 
It is advertised as a healthier alternative to preparing foods in the kitchen. 
Air fryers were made to replace the deep fryer which you have to use too much cooking oil which is not healthy. With an air fryer, food is fried resulting in a crispy texture because of minimum oil. Air fryers can be very affordable. 
An air fryer has the ability to prepare a variety of foods like an instant pot and is not limited to frying. You can fry, grill, bake, and roast in an air fryer. 
Air Fryer Vs Instant Pot: Air Fryer Pros & Cons 
Pros: 
Works quickly and is energy efficient. 

Makes fried foods like fried chicken and French fries healthier. 

Many models are small and compact. 

Simple to use and easy to clean. 

Some models have pre-programmed settings for different foods. 
Cons: 
Foods can easily dry out if not used properly. 

Not ideal for bulk cooking since they're pretty compact. 

Not as versatile as an Instant Pot. 

Some models are bulky and take up lots of kitchen space. 

Basket shape can be awkward. Some models are too small for foods that don't bend easily (like taquitos or chicken wings).
Air Fryer Vs Instant Pot: The Differences 
The obvious difference between instant pot and air fryer is that you cannot use an Instant Pot for deep frying your food. If you wish to fry your food, the Air Cooker Fryer is the best option. As an alternative, you can quickly fry with hot fat your food in an Instant Pot, which is the closest you can come to deep frying. 
Other than the above, both are different in their own ways. Below, we have taken into consideration some other criteria and chosen a winner for each: 
VERSATILITY: INSTANT POTS 
The difference between an Instant Pot and an Air Fryer is the ability to 'fry' food. While the Air Fryer has this ability, frying is the only thing it can do. On the other hand, while an Instant Pot cannot fry food, it can easily make different items like soups, cheesecake, rice, yogurt, etc., something that is impossible in an Air Fryer. 
PORTABILITY: AIR FRYER 
Portability will depend on the size of the appliance that you pick because both the instant pot and air fryers will come in various sizes. 
However, air fryers seem to be the more portable of the two as the average air fryers will come in a more compact and space-saving design than the average instant pot. 
Also, air fryers will not have any bulky components. Besides the smaller heating element and fans, the rest is often made from lightweight plastic materials. Like many other pressure cooker types, instant pots are often more heavy-duty which makes them heavier and less portable. 
EASE OF USE: AIR FRYER 
Most Air Fryers in the market have just one or two dials. You can set the temperature and the time, and the rest is done for you. In the case of Instant Pots, you need to learn how to use the appliance first, although it will get easier once you get the hang of it. 
SIZE: AIR FRYER 
On average, an Air Fryer is smaller than an average Instant Pot. But it all depends on the model of the appliance. For instance, the Instant Pot Duo Mini will occupy much less space than the Philips XL Air Fryer. 
SAFETY: INSTANT POTS 
Since Air Fryers are something new to the market, people have complained about a lot of different issues like plastic odors, smoking, melting, overheating, etc. Instant Pots have been around for some time now, so you will see a lot of different safety mechanisms put into the play. 
PRICE: INSTANT POTS
The average price for the best-selling air fryers on Amazon is $100. The average price for the best-selling electric pressure cookers is around $80. So, air fryers are a bit more expensive, and I've seen the prices going up lately, while the prices for instant pots remain stable. 
Comparison Table 
| | | |
| --- | --- | --- |
| | Instant Pot | Air Fryer |
| How it works | Wet Heat | Dry Heat |
| Safety | Poses significantly more risk | Safer |
| Versatility | More versatile | Quite versatile |
| Average Cooking Speed (whole chicken) | 20 to 25 minutes | Up to 75 minutes |
| Portability | Larger and less portable | Small and more portable |
| Ease of Use | Steeper learning curve  | Small and more portable |
| Prices | $ | $$ |
Air Fryer Vs Instant Pot: Summary
After all of the above core insights, this comparison in all the aspects of the products shall help you decide without hesitation which one is perfect for your needs!
If you are looking for the widest variety of dishes that you can cook, it is recommended that you go for an Instant Pot. Although you might not be able to deep fry in Instant Pot, the amount of other foods that you will be able to prepare is far greater than an Air Fryer.
If you love fried foods and you eat them a lot, an Air Fryer would serve you quite well. Whichever you choose between the instant pot vs air fryer should be based on your exact needs.