---
We like to share product recommendations with you and hope you like them! Just to make you aware Kitchen Gadgets Maven may collect a small share of sales or other compensation from the links on this page.
---
Kitchen Gadgets Maven is reader-supported and may earn a commission when you book or purchase using our links. Learn more about our affiliate disclaimer here.
Who doesn't like the smell of coffee in the morning? It's the highlight of the day for most people, and being able to make a quality cup for yourself in the comfort of your own home is priceless. If you like this thought, you should consider buying a coffee maker. It's a great investment, saves you a lot of time and money as opposed to going to the coffee shop and you can have a fresh cup of coffee anytime you want. Today we're going to be reviewing the Keurig b130. It's a convenient and affordable coffee maker that will serve you well. 
Things to consider before buying a coffee brewer like Keurig B130
Before deciding if this coffee brewer is for you, you should think about a couple of things.
Type of coffee maker
It's easy to go out and buy the first coffee maker you see and think you're all set. But, it's important to think about what exactly you will be using it for. Do you drink filtered coffee? Or maybe you're an espresso lover? Whatever the case, it's good to research specific brewing systems for your desired drink.
Capacity and speed
Another essential thing to think about is how much coffee do you need to make and how fast. Not everyone has enough time to wait for the coffee to brew. We lead busy lives and it's great if your coffee maker can help you save some time for more important things. 
Capacity is important if you want to make a large pot and use it throughout the whole day, or if you just want one cup only for yourself. Both of these cases require different types of brewers, so you need to determine which is the right choice.
Budget and maintenance
There are a lot of affordable products out there, and also some quite expensive. You can find a coffee maker that has all the features you need and also is budget-friendly. 
Another important thing is maintenance. It's a good idea to choose a coffee maker with low maintenance needs if you don't have the time. Also maintaining adds additional costs, so you need to be prepared in advance.
Who is this coffee maker ideal for?
This piece of technology is a great addition to both the home and the office. It's small and compact, so it takes up very little place wherever you put it. 
The Keurig b130 can be used to prepare a variety of different beverages, so everyone can have their drink of choice.
It's a great choice for people that don't want to waste a whole pot of coffee. It prepares one drink at a time, so you can make your cup and then go about your day, not leaving a whole pot at home. However, this makes it not that suitable for big families or gatherings with friends. It will take a lot of time to prepare a cup for everyone individually.
Let's look at some of the features and benefits that come with owning the Keurig b130, and then you can decide if it's the right product for you.
Keurig B130 Features & Benefits
Power use
The Keurig b130 is designed for both offices and homes with the idea to save as much power as it can. Because of that, it uses a lot less power than other coffee brewers.
Speed
With the small amount of power it uses, the Keurig brews coffee fairly quickly. It takes about 3 minutes for a cup to be ready.
No mess
This machine makes coffee using disposable K-cups, so there are no filters or residue coffee grounds that you need to clean up after. It's a low-maintenance coffee brewer and it's always going to be clean and ready for the next brew.
Customer service
Sometimes you can encounter a problem with your brewer and be in need of assistance from a professional. Who better to call than the manufacturer? Yes, this product has excellent customer service. The manufacturer is available by phone 24/7 for whatever you need.
Multifunctional
The feature that sets it apart from other brewers the most, and my personal favorite, is that you can make cold drinks too. You can make everything from iced coffee to tea and hot cocoa. It's a perfect tool for year-round.

Keurig B130 Social Proof
I did a lot of research to see what actual customers have to say about this coffee brewer, and the responses were amazing.
Let's look at some of the testimonials: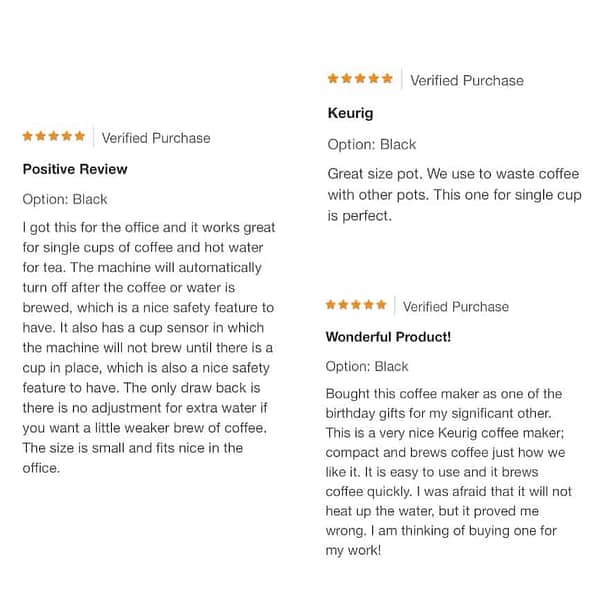 Keurig B130 Alternatives
Although this coffee brewer is the perfect choice for most, you can always look at other ones available on the market. Here are some great alternatives:
Keurig K45
A great coffee brewer that is faster, only needing 45 seconds instead of the 3 minutes needed with the b130. Have in mind that this brewer is very bigger and more suitable for families or people who need to make a lot of coffee at once.

Keurig K65
This one is the fastest among the three choices we've seen today. It also has a digital display which is not available in the K45 and b130. However, it's a lot more expensive in comparison with the other brewers.

Keurig B130: Last Thoughts
This review and buying guide was made to help you make an informed decision about which coffee brewer is the perfect choice for your home. The Keurig is a great investment and with it, you will have freshly brewed coffee available at all times.