---
We like to share product recommendations with you and hope you like them! Just to make you aware Kitchen Gadgets Maven may collect a small share of sales or other compensation from the links on this page.
---
Kitchen Gadgets Maven is reader-supported and may earn a commission when you book or purchase using our links. Learn more about our affiliate disclaimer here.
While we all know it is good for us, getting enough vegetables in your diet can be a challenge. That's why it is so great to find easy additional ways to add them into your everyday diet. One appliance that has become popular for doing so lately, is a spiralizer.
A spiralizer is a tool which allows for vegetables of all types to be cut into thin spirals, like spaghetti. These spirals can have many different uses, but one of the most popular ones is to make vegetable spaghetti, that can then form a base for a variety of dishes.
This is an extremely healthy alternative to real pasta, which is very high in carbohydrates without much nutritional value. Plus, making vegetable spaghetti is so easy with a spiralizer – it takes just a few minutes. Perhaps best of all is that you will make healthy dishes that taste great.
You can use just about any kind of vegetable in your spiralizer. Some of the most popular include cucumbers, beetroot and carrots. Carrots in particular work great in a spiralizer because they are long and skinny, and very firm in texture. This makes them very easy to put through the spiralizer.
Plus, spiralised carrots taste fantastic, as they easily soak up the flavours of the dish you are making. What's not to love? Even kids are bound to eat up their veggies when they look and taste so great!
There are now more and more spiralizers on the market, and it can be overwhelming trying to decide which one is the best one to pick. Therefore, we have scoured through and brought you the 5 best spiralizers on the market.
1. Paderno World Cuisine Spiralizer
This nifty spiralizer comes with three different types of blades for making different types of 'spirals'. You can easily make carrot spaghetti with this spiralizer, but you can also make more unique cuts for everything from salads to desserts. It can also handle most types of vegetables.
The Paderno Spiralizer is manually operated so does not require batteries or a power source. There are suction cups on the bottom of the tool, so just securely attach it to your countertop and use the handle to spiralize the carrots.
The body of this product is made from a strong, durable plastic that is food safe as it is free from BPA, and the blade is stainless steel. It can easily be taken apart to make cleaning effortless – and it is also dishwasher safe for those who don't want to hand wash.
This product is quite inexpensive, especially considering it requires no batteries or electricity. All around a great addition to the kitchen!
---
2. Spiralife Vegetable Spiralizer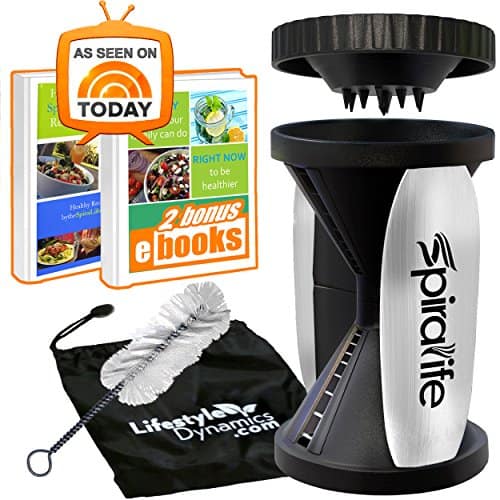 For even more options on how to spiralize vegetables, try this product from Spiralife. It comes with 5 different knife attachments so you can get really creative in the kitchen. It works well with most types of vegetables, although really tough veggies might need a quick zap in the microwave first.
The Spiralife Spiralizer also has a unique wider design that allows for more of the vegetable to be turned into spirals. Some other brands have far more waste than this clever product, so it is really good for you wallet, especially given its competitive price tag.
This product is manually operated, with a clever finger guard to allow you to chop more of the vegetables, without any risk of injury.
In addition to the spiralizer itself, Spiralife also include 2 eBooks which are packed full of tasty recipes to get you started with your new spiralizer. This is a great way to get started, although the possibilities are endless once you start experimenting!
Best of all, this spiralizer comes with a 100% refund or replacement guarantee if you are not totally satisfied with the product.
---
3. Spiralizer 5 Blade Vegetable Slicer
The original and perhaps best known brand is the original Spiralizer, which has had tens of thousands of happy customers over fifteen years. It comes with 5 different attachments for creating all types of different vegetable spirals.
This product is super strong and can easily cut through all different vegetables including potatoes and yams. Carrots are of course no match for the manually operated Spiralizer.
The Spiralizer also comes with lots of additional extras that make it such a smart purchase. It comes with 3 eBooks which contain many gluten free, raw and vegan recipes so that anyone can learn how to use and enjoy their new Spiralizer. It also comes with a lifetime warranty so that if it ever breaks, Spiralizer will replace it!
This product is a little more expensive than others on this list, but you are paying for peace of mind with a well known brandname. With the lifetime replacement warranty, you don't have to worry about any breakdowns.
---
The winner is…
There are lots of great spiralizers on the market, and they all do a great job slicing carrots in to delicious, beautiful spirals that are the perfect base for many meals.
However, our personal favourite is the Spiralife Vegetable Spiralizer. The price is unbeatable, and you get 5 different blade attachments. Plus, it's clever design allows you to squeeze even more out of your vegetables – getting more for your money, and also helping the environment by leaving less waste. All in all, we think this is a brilliant product that the whole family will enjoy.