---
We like to share product recommendations with you and hope you like them! Just to make you aware Kitchen Gadgets Maven may collect a small share of sales or other compensation from the links on this page.
---
Kitchen Gadgets Maven is reader-supported and may earn a commission when you book or purchase using our links. Learn more about our affiliate disclaimer here.
Most kitchens are not complete without a dish drainer to help with draining and drying dishes. While many of us are lucky enough to have dishwashers, it is still useful to have a dish drainer for those times when dishes are hand washed.
It is particularly useful to have a dish drainer for pots and pans. Even though you can wash these in the dishwasher, they take up a lot of space and often don't get washed properly.
Including large pots and pans in the dishwasher can also stop the dishwasher from washing other dishes properly, so many people choose to wash large dishes by hand.
The problem with washing pots and pans by hand and trying to dry them, is that most drying racks aren't great for drying them. They can often take up all the space, and even cause the whole drainer to fall over if they aren't stacked properly.
Luckily, there are now some great products available that can easily handle even the largest and heaviest pots and pans! We've scoured what's available to bring you the best products on the market right now. So, here they are:
Brand
Dimensions
Weight
Material
Drainage Spout?
Foldable?
Warranty
#1. OXO Good Grips
Our Best Pick

Check Price
13 x 20.2 x 4.1 inches
4.7lb
Stainless Steel
Yes
Yes
Manufacturer's warranty
#2. SimpleHuman

Check Price
21.8 x 20.2 x 14.3 inches
8 lb
Stainless Steel
Yes
No
5 year limited manufacturer's warranty
#3. PremiumRacks

Check Price
17.5 x 13.9 x 12 inches
5.2lb
304 Stainless Steel
No
Yes
Will replace within a "reasonable timeframe"
#4. 3-Tier Drying Racks

Check Price
26.38 x 11.42 x 20.47 inches
6.6lb
Stainless Steel
No
No
Manufacturer's warranty
1. OXO Good Grips Convertible Foldaway Dish Rack (Our Best Pick)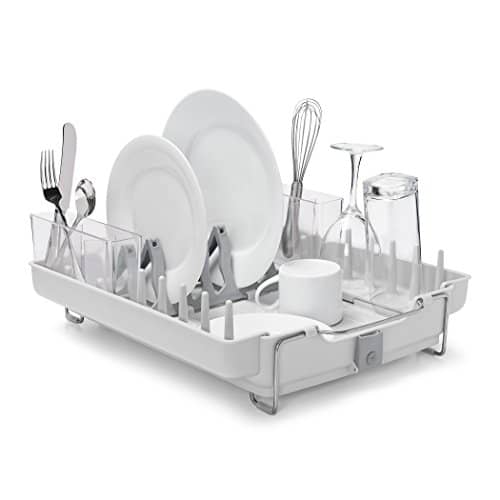 While many people leave their dish draining racks on the sink at all times, others prefer to put it away when it is not in use so as to keep their kitchen looking clean and tidy. If this is you, you might find that it is a bit of a pain to put away the dish rack.
This is what makes the OXO Good Grips dish rack such a good option. It can be easily folded away for easy and neat storage.
The foldaway feature is also helpful when actually using the product. This dish rack can be used in two ways – either folded down to allow for more space for cookware such as pots and pans, or folded up for smaller items such as bowls and cutlery. This is another reason it is a great choice for drying pots and pans.
It is also made from high quality stainless steel which does not accrue mold or mildew. It also has legs that fold out, so as to raise the dish rack above your countertop and allow water to drain efficiently.
---
2. SimpleHuman Steel Dish Rack
One of the biggest complaints about dish drainers is that they are not usually very visually attractive. Many people worry that adding a cumbersome dish drainer is going to ruin the look of their kitchen.
That is why we are such big fans of this dish drainer from SimpleHuman, which is made from fingerprint resistant stainless style and has a stylish minimalist look.
Not only does this dish rack look great, but it also has a lot of incredibly clever features to make it very user friendly. One of these features is a 360 degree swivel spout, which allows for water to drain right into the sink rather than pooling on your countertop.
The dish rack is large, allowing for lots of dishes to be dried properly. It will easily fit your pots and pans, and allow any water that drips from them to pour straight into the sink. Plus, the dish rack comes with other great features such as a space especially for your large wine glasses.
This isn't the cheapest dish rack on the market, however it has a lot more features than your regular dish drainer, so it presents great value.
---
3. PremiumRacks Professional Dish Rack
This is another great looking option, made out of stainless steel and put together in a minimalistic style. The great thing about this dish rack is that it is extremely versatile.
This dish rack comes with many standard components including various attachments that can hold utensils, cups, cutting boards, knives and more. The whole dish rack can be moved around, flipping things over or removing them entirely.
This means that you can store your additional items in these extra components while leaving the rest of the space free for pots and pans. This is a really versatile and clever design.
The PremiumRacks Professional Dish Rack is also covered by a one year no questions asked warranty. Therefore, you can try this dish rack with no worries to see if it fits your needs.
---
4. Dish Drying Rack Dish Drainer 3-Tier
This is the largest drying rack on this list, with three generous tiers to place dishes on. This leaves it with plenty of space for all your cookware, including pots and pans.
Although this drying rack is large, it is neat and tidy so is bound to make your kitchen look organised and stylish. It is also made of elegant stainless steel, which is reinforced so as to make it super tough and prevent rusting.
Each of the shelves has its own tray where water can drip, so it keeps your countertop free of any moisture. You can simply tip out the water that is caught in the trays.
This product is perfect for large kitchens, and has plenty of space for all your items. You won't need to worry about not having enough room for other items if you dry your pots and pans – everything will fit on this 3 Tier dish drying rack!
---
And the winner is…
The OXO Good Grips Convertible Foldaway Dish Rack is a very clever and versatile product, and our pick for the best drainer for pots and pans. This great product can be folded out to give you more space when needed, so it won't always take up too much room on your kitchen top. Plus, when not needed at all, it needs folds away for storage. It also has a drainage spout for ultimate ease of use, making it our favourite.