---
We like to share product recommendations with you and hope you like them! Just to make you aware Kitchen Gadgets Maven may collect a small share of sales or other compensation from the links on this page.
---
Kitchen Gadgets Maven is reader-supported and may earn a commission when you book or purchase using our links. Learn more about our affiliate disclaimer here.
Most people will tell you that one of the least enjoyable household chores is cleaning an oven! It can be incredibly difficult to get rid of that tough, baked on grease, and the awkward size and shape of most ovens can make it even harder.
Luckily, there are a lot of great products out there to make your life easier.
Of course, one way to minimize the amount of work you need to put in is to try to keep your oven as clean as possible in the first place. Be careful and be sure to use trays or baking sheets when cooking, especially if cooking something where oil or other liquid is likely to leak.
Also, if you do spill grease in the oven, try to clean it as quickly as possible. Of course, if you are in the middle of cooking a delicious meal it might be best to wait until your tasty dish is finished, before using any chemicals or other substances to clean the oven! But as a general rule, try not to let grease stains stay to get more and more baked on over time.
However, no matter how careful you are, chances are you will still need to clean your oven fairly regularly to keep it looking good and to make sure it is a hygienic cooking environment. Luckily, there are a lot of great oven cleaners out there to help take some of the effort out of this tiresome task!
Here are our picks for the best products:
Brand
Type
Main Ingredient(s)
Fumes?
Wait Time
Weight
#1. Mr. Muscle  Cleaner
Our Best Pick

Check Price
Aerosol
Sodium Hydroxide
Yes
5 – 10 mins
19 oz
#2. Baking Soda

Check Price
Powder
Sodium Bicarbonate
No
30 – 60 mins
Varies
#3. Easy Off Cleaner

Check Price
Aerosol
Sodium Hydroxide
No
30 secs - 40min
24 oz
#4. Natural Organics

Check Price
Spray
Coconut Oil; Orange Oil; Palm Oil
No
2 mins
33 oz
#5. Carbona Biodegradable

Check Price
Spray
Sodium Bicarbonate
No
12 oz
1. Baking Soda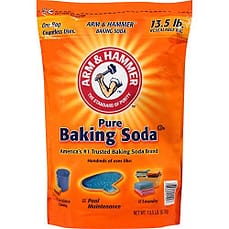 Also known as bicarbonate soda, this is a fantastic, natural cleaning agent. There are literally dozens of uses for baking soda, and one of the best and most famous uses is for cleaning. The great thing about baking soda is it is natural without any harmful chemicals, and lasts for years if it is stored properly.
There are many different brands, such as McKenzie's Bicarb Soda or ARM & HAMMER baking soda. The brand name isn't all that important, as the main ingredient is always the same.
To apply, mix the baking soda with another iingredient such as vinegar, water, or lemon juice to create a paste. Once it is in a paste, apply it liberally to the area with the grease stain and leave to soak. How long you leave it depends on how bad the stain is – but usually 30 – 60 minutes is enough.
After this time, wipe it off and observe the results!
---
2. Easy Off Professional Fume Free Oven Cleaner Aerosol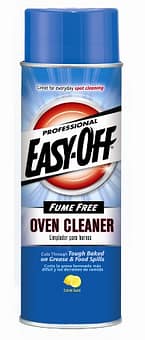 This oven cleaner is the most popular oven cleaning product in the USA, so boasts many happy customers! It is inexpensive, and free of any nasty fumes that may affect your cooking or kitchen generally.
As it is an aerosol, it is super easy to use. Just spray and leave for either 30 seconds (if spot cleaning) or 40 minutes (if deep cleaning) before wiping clean. There is a stronger version for an even more intense clean, but for most uses, the standard one should be fine.
---
3. Mr. Muscle Oven and Grill Cleaner
This oven cleaner is another aerosol cleaner where you simply spray, leave, and then wipe down. Therefore it is an extremely easy product to use for cleaning grease from your oven.
While Mr Muscle is not as well known as some other brands, those who have used it provide excellent reviews. It is not only good for cleaning ovens, but also for other uses such as cleaning barbecues or grills. It goes to show the strength of this product that it can be used on heavy duty, outdoor cooking surfaces as well.
---
4. Natural Organics 100% Natural Oven & Grill Cleaner
Like bicarb soda, this product is totally natural and doesn't confirm any chemicals. Instead, it is made from 100% plant based ingredients, so you can be confident knowing that when you use this, you are not adding any toxic or harmful chemicals to your oven.
Although it is natural, it is just as strong as any chemical cleaning product, lifting even the toughest stains with very little work. Natural Organics are so confident in their product that they offer a 100% money back guarantee if you are not totally satisfied with the product.
---
5. Carbona Biodegradable Oven Cleaner
A good "in between" product is the Carbona Biodegradable Oven Cleaner. This oven cleaner has baking soda as its main ingredient, making it great for the environment and for safe use around the home. However, it comes in a convenient spray bottle to take away all of the hassle that usually comes with using baking soda.
This product is totally safe for home use, and has no harsh smells or fumes that can make cleaning unpleasant or stay in your oven. It works easily – just spray, wait, and wipe to reveal your beautifully clean oven.
---
And the winner is…
So there you have it, five great products that will get your oven in sparkling, tip top shape in no time. Which of these is the best for you will partly depend on what you are looking for in an oven cleaner. If you want to go natural, we recommend the Carbona Biodegradable Oven Cleaner, which has all of the features of using baking soda, without the fuss!
However, over all, it is the Mr Muscle Oven and Grill Cleaner that gets our vote. This product has hundreds of rave reviews from satisfied customers, and is an affordable product for your home. Plus, it can be used both inside and outside, making it a versatile product that works not just on ovens, but on other appliances such as barbecues. Even the most stubborn of grease stains are no match for this cleaner!
Sources